Day 1 August 16, Crown Convention Centre
MC Tristan Kitchener
The Changing retail landscape
Bio
Tristan is an ex-retailer, having previously held senior positions with Sainsbury's (UK) and Coles supermarkets, and is now a management consultant providing advice and support along the grocery value chain, from major retailers through to manufacturers and primary producers. He has a focus upon fresh foods and was the Group Merchandise Manager, Fresh Produce, at Coles Supermarkets (2005-09).
Tristan is a regular speaker at industry conferences, and appears as a sector expert in shows such as Switzer Daily on Sky TV. He has worked with a range of businesses including major and independent retailers, manufactures, private equity firms, state and federal government and other SMEs. Tristan's formal qualifications include a MBA, MPhil Horticulture Management and BSc (Hons) Biological Sciences.
Summary
Australian retailing is going through unprecedented change, with the turnaround of Woolworths, continued growth of Aldi and arrival of Amazon, coinciding with changes in consumer-shopping behaviour. As market share transfers from independent to the major grocery retailers, this poses significant challenges for wholesalers and suppliers, including risk to volumes and trading profits, higher cost of doing business and a requirement for different skills and capabilities.
As the major retailers have lifted the bar for consumers, the supply chain must also adapt to meet these emerging needs, and it will be the businesses that move first that will find growth. It is ever more important to be focused upon solving the pain-points of the retailer and consumer in order to create, as well as capture, 'value'.
Collaborative export for horticulture enterprises
Bio
Dr David McKinna is principal of boutique strategy consultancy McKINNA et al. In over 30 years of consultancy, David has
worked on export development in virtually every market for Australian agrifood exports across multiple categories including
seafood, meat, dairy, horticulture and packaged foods. He played a leading role in the development of the highly successful
Aussie Beef strategy in Japan and South Korea and the development of consumer marketing strategies for Australian
horticulture in South East Asia. 

As managing partner of agrifood strategy consultancy McKINNA et al, Catherine Wall has advised some of Australia's largest
agrifood businesses, academic institutions and government departments on food strategy and policy. This experience
includes numerous in-market trade and consumer research and market scoping studies across Asia, North America and
Europe. Catherine has a background in commercial sales and marketing roles. She has been general manager and a company director of an industry-leading horticultural business in the nursery and garden sector in Victoria.
Summary
New and highly successful collaborations between food producers are emerging across the world for the purposes of exporting. For the WA horticultural sector, this type of collaboration could potentially offer many advantages to growers who do not have the resources to export independently.

This presentation from the principals of agrifood consultancy McKINNA et al highlights the findings from recent
projects for AUSVEG, DPIRD and Vegetables WA on fruit and vegetable export market development.
This presentation will uncover some of the benefits and challenges of developing collaborative business models for exporting. Case studies from around the world will be profiled to extract learning from other collaborative export groups.
Market City privatisation and the WA horticulture value chain 
Bio
Stephen Ward is the CEO of Perth Markets Limited, the owner and manager, of the Market City Wholesale Produce Complex
at Canning Vale which was purchased 31/3/2016. He was also the CEO of the  Perth Market Authority when the site was
owned by the WA Government. Prior to coming to the markets, Stephen was a Senior Corporate and Institutional
Banking Executive.
Summary 
The Market City Wholesale Produce Market is a critical component in the WA Horticulture Value Chain with over half of the total produce consumed in WA being traded and distributed through the site users. This presentation
will cover the successful "business as usual" transition of operation of the site following the privatisation sale to Perth
Markets Limited on 31 March 2016, and the future development opportunities and plans for the site. In addition, the
results of a commissioned project to update the total volumes and value of horticultural produce for the state wide
market for WA, along with other insights, will be presented.
Benchmarking for Succcess
Bio
Bryn Edwards works for vegetablesWA as the Benchmark Lead, leading the development of a benchmarking capability for the business and process inputs into vegetable production across Western Australia. Working as a management consultant for almost 15 years he is able to combine excellent analytical skills, great ability to work with people with a clear focus on delivering on time and on budget.
Paul Omodei works for Planfarm as a farm management consultant, based in Manjimup in the south west of WA and has been consulting since 2004. Paul is an expert in business analysis, budgeting, benchmarking, strategic planning and farm systems management. Paul has a vast knowledge in horticulture built from practical experience working and assisting growers across the southwest along with growing up on a family grape, avocado and truffle farm.
Summary
Benchmarking is the anonymous comparison of key business measures against other vegetable growers regionally and State-wide; and is a simple way to manage businesses more effectively and identify improvements. During this presentation, vegetablesWA and partner Planfarm will provide insights into the WA vegetable industry benchmarking report. vegetablesWA provide a free annual vegetable benchmarking service to all growers. It is funded by the Department of Primary Industries and Regional Development (DPIRD) Grower Group Grant and Hort Innovation using the vegetable research & development levy funds.
Overview of the Horticulture Code of Conduct

Bio
Claire's role at vegetablesWA is to assist growers in gaining more value from the supply chain. She has considerable
experience in the vegetable exporting and domestic value chains, with previous roles at Schreurs and Sons (Victoria)
and AUSVEG.
Summary
The Horticulture Code of Conduct applies to transactions between growers of fruit and vegetables, and
traders of fruit and vegetables. It is a prescribed mandatory code made under the Competition and Consumer Act; this
means that whether you are a Trader or a Grower you must conduct your business in a way that is compliant with
the Code.
This presentation includes an overview of the Horticulture Code of Conduct, obligations of Growers and
Traders, record keeping requirements and compliance obligations.
WA honey industry transformation to meet international customer need
Bio
Kenneth Dods is an experienced Food Scientist and analytical chemist, currently Research Coordinator Primary Industries at ChemCentre, the State's chemistry facility, where he specialises in the development and application of food chemistry methodology that meets and advances food and agricultural government and industry objectives. As both a GLP accredited and NATA certified analyst, he has contributed to research team outcomes as a compositional chemistry expert for more than 25 years with his teams achieving numerous national and international awards for project outcomes. 
Summary
WA honey industry transformation to meet international customer need and the importance of certification as a mechanism of assurance and differentiation in international markets.
Wines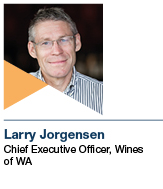 Bio
Larry has worked in the wine industry since 1996, concentrating on sales, market development and brand management. He
has been CEO of Wines of WA for the past five years. He has a firm belief that regional development, through industry collaboration, is essential to business profitability. "The value proposition for WA produce is based on provenance. Regions must determine their strengths and, working as a team develop the best strategies to capitalise on these."
 
Summary
The value proposition for wine is vested in brand at producer, region of origin and country of origin. Producers
can develop brand value as individuals, but all leverage this through region of origin and to a lesser extent, country of
origin. Building and supporting a regional brand is a collaborative process and requires effort across the value chain.
Regions must develop the capacity toconsistently deliver product at a standard that supports the regional brand promise and then collectively bring the story to market.