Detection of Johne's disease cattle strain in WA
Johne's disease (JD) cattle strain (C-strain) was confirmed in homebred cattle in southern WA in September 2021. The Department of Primary Industries and Regional Development has met with WA cattle industry representatives and it has been determined that it is not technically feasible or economical to eradicate JD (C-strain). Current import conditions continue to apply until further notice. Please refer to the webpage Johne's disease in cattle: management in WA for further information.
LB1 livestock health certificates
New LB1 livestock health certificates (see Table 1) are in effect for livestock importation into WA from 1 July 2021.
The LB1 is now species-specific and requires:
exporting producers/managers and veterinarians to provide a signed declaration for each of the import conditions
for cattle Johne's disease import conditions, an additional producer declaration if the cattle were not born on the exporting property. (See the health certificate for movement of cattle into WA and the Johne's disease (cattle strain) cattle import conditions for WA for more information.)
importing producers/managers to complete a section of the health certificate before the livestock are imported which:

confirms with the exporting producer/manager that they have understood and met WA's import conditions and 
describes the post-entry conditions for liver fluke and footrot.
The previous LB1 health certificate for movement of stock into WA must no longer be used.
Note: A PDF viewer is required to open some of the forms below, which can be downloaded from Adobe Acrobat.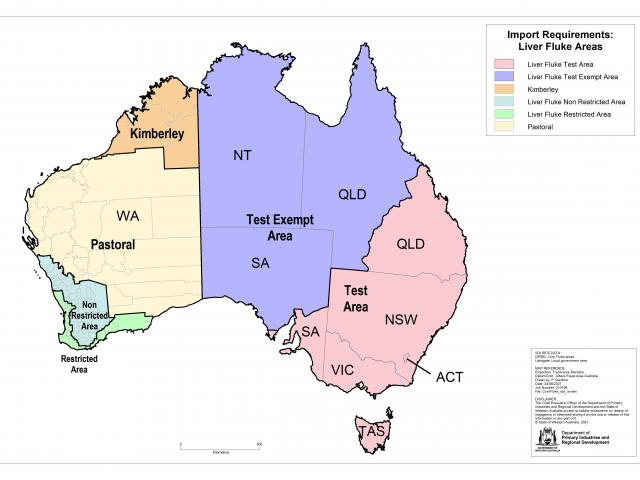 The current liver fluke map can be printed out from this PDF link.
Exemption forms referred to in the LB1 are contained in Table 2 below.