Japanese encephalitis detection in eastern states: suspension of live pig movements into WA and new import conditions for semen movements into WA
Following the detection of Japanese encephalitis in other states/territories, DPIRD, in consultation with industry, has implemented new import conditions for movement of semen into WA to reduce the likelihood of introduction of Japanese encephalitis into WA.
This amendment to import conditions is in effect from 7 March 2022.
A new health certificate for movement of semen into WA has been developed, with Part 3 containing the import conditions which should be reviewed by all parties intending to move semen into WA to ensure that all consignments of semen meet WA's import conditions.
Exporting semen collection centre managers that are unable to meet the pig semen import requirements may submit an import permit application to animalbiosecurity@dpird.wa.gov.au.
The import permit application should include submission of a completed LB1 Health Certificate for the movement of Porcine Semen into Western Australia (Part 1 and 2) to indicate which import conditions are met.
Sufficient evidence must be provided on any import conditions that cannot be met and the equivalent measures to be implemented, to enable DPIRD to undertake a detailed risk assessment of JE status of the boar, boar property of origin, semen collection centre and the semen intended for importation into WA.
LB1 livestock health certificates for movement of stock into WA
The LB1 is species or commodity specific and requires:
exporting producers/managers and veterinarians to provide a signed declaration for each of the import conditions
importing producers/managers to complete a section of the health certificate before the livestock are imported which:

confirms with the exporting producer/manager that they have understood and met WA's import conditions and
describes the post-entry conditions for liver fluke and footrot.
Note: A PDF viewer is required to open some of the forms below, which can be downloaded from Adobe Acrobat.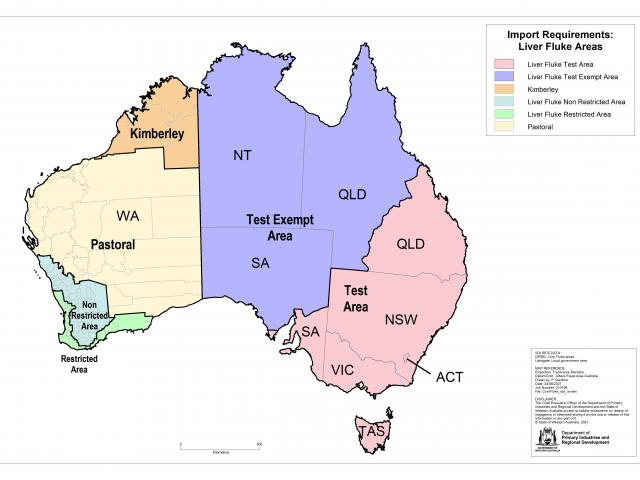 The current liver fluke map can be printed out from this PDF link.
Exemption forms referred to in the LB1 are contained in Table 2 below.