Other common oranges
Many other common orange varieties are available but few are grown commercially because of established markets for navels and Valencia. Many are more suited to processing than fresh consumption. Some of the more common include Hamlin, Parson Brown, Pera (Olimpia), Pera (Limeira), Pineapple and Salustiana.
Blood oranges
Blood orange refers to common oranges that have red internal pigmentation. They are not common in WA although in recent years there has been renewed interest in this group.
Blood oranges require a degree of chilling or cold weather to initiate the development of internal fruit colour (anthocyanin) and they are likely to be more suited to cooler areas where night temperatures are lower.
Some old varieties include Arnold, Maltese and Ruby, while newer varieties include Tarocco Ippolito, Tarocco Meli and Tarocco Rosso.
Arnold Blood
Available through Auscitrus and local nurseries.
This variety has developed good internal pigmentation in Bindoon where night temperatures are colder than at coastal sites where colour development has been poor. Fruit have a tendency to be small and need to be left on the tree for a considerable period after colour development to allow suitable internal quality standards to be achieved, especially in colder areas. Matures September to October in Bindoon.
Tarocco Ippolito
Available through Auscitrus and local nurseries.
This variety has performed the best of the three Tarocco orange types evaluated at trial sites in WA. Internal development of red pigmentation at the cooler Bindoon site has been good, while colour development at warmer coastal sites, although evident, is not as good.
Trees are vigorous in the juvenile stage and can be quite thorny until trees get older. Internal maturity levels appear to develop earlier than for Arnold Blood but fruit will still benefit from being left on the tree to develop better internal sugar and acid levels.
Fruit size has ranged from small to medium and fruits mature from August to October in Bindoon. Fruit have shown to be susceptible to albedo breakdown in some seasons and would benefit from gibberellic acid (GA) and calcium sprays. Fruit also have a natural tendency to be a little softer than some other orange varieties.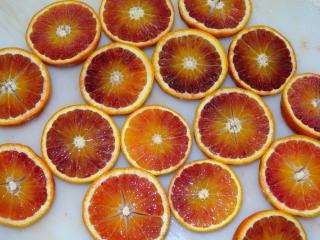 Varieties under evaluation
Currently there are a number of new varieties of oranges (selections of navels and Valencias) being evaluated in WA and around Australia. More information about these will be included in this webpage as data becomes available.
Acknowledgement
This webpage replaces Farmnote 540 Orange varieties for WA by Kevin Lacey.