Scavenging on human (and pet!) foods & drinks
This wasp was spotted by C Spencer (MPG ID 156612) at a Wave Rock Caravan Park near Hyden, scavenging on a camper's meat and vegetable stew. European wasps can stow away on caravans entering WA from the eastern states.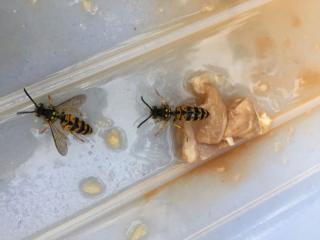 These wasps were found scavenging in an empty meat tray left on a barbecue. 
J Randle (MPG ID: 158592) snapped these two European wasps feasting on some leftover dog food in a Maddington backyard.
Not only are European wasps hungry for protein, but they also get thirsty. European wasps are commonly sighted drinking from backyard water sources such as bird baths, swimming pools and sprinklers, as well as at creeks and rivers.
Nests
European wasps build underground nests, with a golf-ball sized round opening.
European wasps nests may be hidden by scrub in bushland. Nature reserves, national parks and verges are all common places for European wasps to build nests.
Although most European wasp nests are underground, they occasionally build nests in trees. Paperbark trees and palm trees are commonly selected by European wasps to build their nests in.
Industrial areas
A European wasp nest found in a hollow brick at a Kalgoorlie construction business. Industrial areas are common sites of European wasp nests, as European wasp queens can enter WA through shipments from the eastern states, where the wasps are established.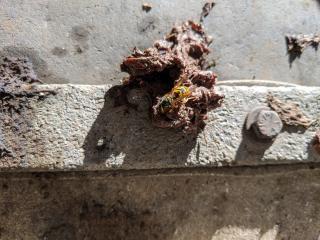 A European wasp found feasting on carrion in a truck grill. 
Sharing your BBQ with European wasp
European wasps' unique flying style and appetite for meat are key identifiers.