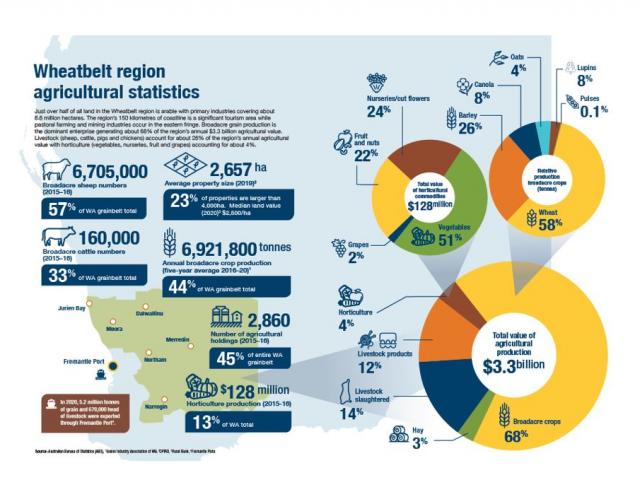 The snapshots enable easy comparison of cropping, livestock and horticultural industries across and within the Wheatbelt, Mid West, Great Southern and Goldfields-Esperance (Esperance Port Zone) regions, including  the relative value of broadacre agriculture and annual broadacre cropping production. 
The relative proportion of individual grain commodities produced in each region has been captured along with livestock numbers and production values and the composition and value of horticultural industries.  
Data on landholder numbers and their average size is included using the available ABS census data with figures on regional populations, employment and businesses.
Production trends using the latest data for each snapshot will be updated later in the year – enabling comparisons within and between regions to be made over time.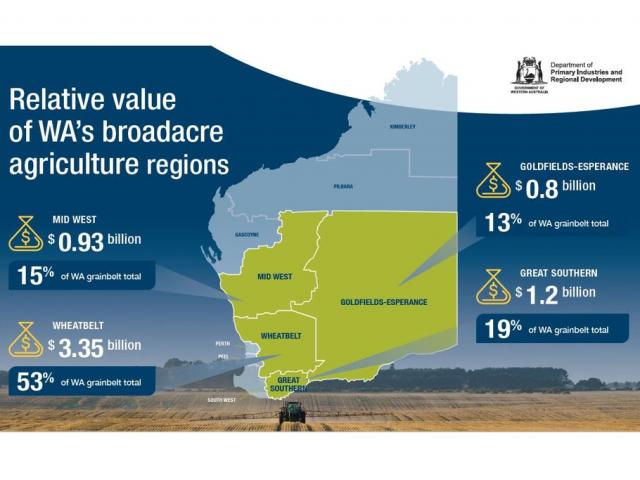 Download the WA broadacre regional snapshots from the 'Documents' section on the right-hand side of this page or clicking on the links below. 
Contact the Regional Intelligence and Adoption team for further information. 
Contacts

| Region | Contact |
| --- | --- |
| Wheatbelt | Juana Paynter |
| Mid West | Christine Zaicou-Kunesch |
| Great Southern | Kelly Hill |
| Esperance | Brendan Nicholas |