Ribbon grass alluvial plain pastures
These pastures are part of the Kimberley 'black' soils group of pastures, and the perennial ribbon grass is the identifier grass. Use the interactive key to pasture condition to help identify pasture type.
Pastoral value
Ribbon grass alluvial plain pastures have a high pastoral value when in good condition. Ribbon grass plants can be killed by repeated prolonged heavy grazing, especially during dry years.
Occurrence
Ribbon grass alluvial plain pastures occur on level alluvial plains throughout the Kimberley. They are found on deep grey or brown cracking clays and occur as tussock grasslands, sometimes with a variable cover of trees, such as eucalypts and bauhinias. These pastures occupy a similar niche to Mitchell grass alluvial plain pastures. The main difference is that here Mitchell grasses are totally absent; additionally, some tree cover is a little more likely and gilgai microrelief is not always evident.
Pasture condition
Good: When in good pasture condition, these pastures are dominated by ribbon grass. Bundle-bundle is also often present. Isolated plants of intermediate species, such as native millet (more common in higher rainfall areas), silky browntop or annual sorghum, may be present. There is little bare ground visible, unless the pasture is heavily grazed, and the plants appear vigorous (Figure 1).
Fair: Prolonged heavy grazing on the preferred ribbon grass and bundle-bundle plants reduces their density and in fair condition, the intermediate species are more prominent. The lower density and smaller size of desirable plants allow an increase in undesirable plants, such as feathertop and rubber bush. Bare patches may become more obvious (Figure 2).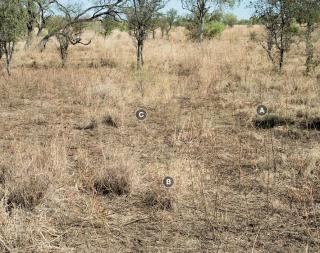 Poor: In poor condition, ribbon grass and bundle-bundle plants are infrequent, often stunted and lacking vigour. Sometimes undesirable perennial species, such as feathertop, can dominate. Alternatively, there may be significant bare areas or large areas with annual grasses, such as Kimberley couch. Intermediate species have declined or may have been grazed out and grazing may even be evident on feathertop and rubber bush, which are species of low palatability (Figure 3).
Associated plants
Table 1 Plants associated with ribbon grass alluvial plain pastures in the Kimberley

Common name
(link to DPIRD species page)

Scientific name
(link to FloraBase)

Life form
Desirable species
 
 

perennial grass

perennial grass

Queensland bluegrass

annual or short-lived perennial

perennial grass

Intermediate species
 
 

perennial grass

Flinders grasses

Iseilema spp.

annual grass

Wire grass, Northern Wanderrie grass

perennial grass

perennial grass

perennial grass

perennial grass

Nineawns, bottlewashers, limestone grasses

Enneapogon spp.

annual or short-lived perennial

Kimberley couch

annual grass

annual grass

Sensitive plants

Neptunia spp.

perennial herb or shrub

Undesirable species
 
 

perennial grass

Threeawn grasses

Aristida spp.

annual or perennial grass

Yellow daisy

annual herb