Weekly native budworm moth trapping has begun early for some WA locations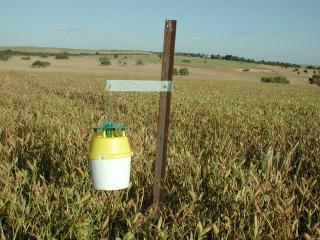 Some volunteer farmers, agronomists and Department of Primary Industries and Regional Development (DPIRD) staff have commenced weekly pheromone trapping for native budworm moths during the past week.
The trapping has started earlier than previous years due to weather events encouraging populations of moths to arrive early. This was backed up by recent reports to PestFax of high moth and caterpillar numbers in some northern wheat belt areas.
This trapping is part of a program to monitor the annual native budworm migratory flights from eastern pastoral areas into the grainbelt and the potential risk of caterpillars to pulse and canola crops.
There was a large flight of budworm moths into the Binnu area this week with the trap there catching 313 moths. This follows 173 moths caught in the previous week.
Other notable captures this week include; Kirwan (144 moths) and Dalwallinu (64 moths). 
Results of this week's automated and manual trappings are available at the department's Native budworm moth numbers 2020 and this table will be updated weekly as new trapping results come in.
A mapped view of the native budworm trap captures is available at cesar's MothTrapVisWA page. Viewers need to select the budworm species name (H. punctigera) from the drop down menu as well as the current year and desired trapping date range.
Pesticide options for the control of native budworm and DBM can be found in DPIRD's 2020 Winter Spring Insecticide Guide.
Detailed information on native budworm can be found at DPIRD's Management and economic thresholds for native budworm page and 2020 PestFax Issue 7 article Native budworm and other moths are active.
For more information contact Alan Lord, Technical Officer, South Perth +61 (0)8 9368 3758 or +61 (0)409 689 468.
Article author: Alan Lord (DPIRD South Perth).