Green peach aphid and turnip yellows virus update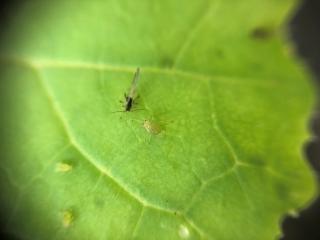 Plant virologist Dr Benjamin Congdon (DPIRD) reports that there is a Green peach aphid (GPA) and turnip yellows virus (TuYV) hotspot west of Condingup. This area could be at high risk for further virus infection in the next couple of months, especially if there are vulnerable late canola crops in the area.
Ben's sticky trap surveillance is also currently indicating that there is some TuYV but very low numbers of GPA in the Albany port zone. There are also low numbers of GPA being captured in Northam, but very little GPA activity in Toodyay, Mullewa and Mingenew. 
For more information on TuYV refer to DPIRD's Managing turnips yellows virus in canola page.
If you do identify GPA in your crop, monitor and only spray if seedling crops are moisture stressed and/or have high numbers of GPA on the plant so the plant is unable to outgrow GPA feeding damage.
Australian GPA populations are known to have resistance to four different chemical groups – synthetic pyrethroids (for example, alpha-cypermethrin), organophosphates (for example, dimethoate), carbamates (for example, pirimicarb) and neonicotinoids. For more information refer to GRDC's Resistance Management Strategy for the Green Peach Aphid in Australia Grains.
Growers are reminded to contact Dr Paul Umina (cesar) on +61 (0)3 9349 4723 if you see aphids survive a Transform™ application.  
For a list of insecticides registered for use on aphids see the department's 2020 Winter Spring Insecticide Guide.
Growers and consultants can use the PestFax Reporter app to request or confirm identification of aphids found in crops.
For more information on identifying and managing canola aphids see DPIRD's;
For more information on TuYV contact Dr Benjamin Congdon, Research scientist, South Perth on +61 (0)8 9368 3499.
For more information on aphids contact Svetlana Micic, Research scientist, Albany on +61 (0)8 9892 8591 or Alan Lord, Technical officer, South Perth on +61 (0)8 9368 3758.
Article author: Cindy Webster (DPIRD Narrogin).