Native budworm and diamondback moths are being found across the Wheatbelt
Native budworm and diamondback moth field reports
Chris Pinkney (Agrarian) reports finding native budworm caterpillars up to 12mm long in budding lupin and canola crops in the Binnu area. A number of crops in the area have been sprayed to control the caterpillar numbers.
Chris has also found diamondback moth caterpillars (DBM) widespread from Binnu to Three Springs in canola crops that had received no post-emergent sprays. The caterpillars were mostly around 10mm in length indicating they are close to maturity and will soon be pupating. At this stage the numbers are relatively low, with not a lot of damage evident. The DBM caterpillars will be closely monitored over coming weeks and sprayed later in the season should they reach threshold damage levels. Their distribution within crops and between localities can vary greatly, hence the need for careful and regular monitoring of several areas within each crop.
The recommended thresholds for DBM caterpillar control are:
pre-flowering (stressed crop) - 30 or more grubs per 10 sweeps
pre-flowering (no stress) - 50 or more grubs per 10 sweeps.
Native budworm and diamondback moth trapping surveillance
Binnu
Dalwallinu
Mukinbudin
Northam
Muresk
Clackline
Brookton
Gibson
Mt Ridley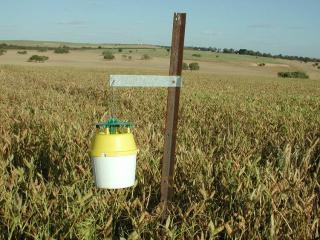 Volunteer farmers, agronomists and some DPIRD staff will commence weekly pheromone trapping for native budworm moths in the coming weeks as part of a program to monitor the potential risk of native budworm caterpillars to pulse and canola crops.
Binnu budworm trapper Peter Cripps has put his budworm trap out early this year, given the recent reports of budworm flights, and this week captured 173 moths over 6 days.
High native budworm moth numbers have also recently been captured in automated traps set up in canola at Gibson (161) and Mount Ridley (92). No native budworm caterpillars were sweep netted in the trap canola crops and there wasn't any significant damage from moths. However if this flight of moths has commenced egg laying in the crop it will take at least two to three weeks before they grow to a size of approximately 5mm long and can be detected whilst netting crops.
Smaller numbers of native budworm and diamondback moths have been reported in automated traps at Dalwallinu, Mukinbudin, Northam, Muresk, Clackline, Brookton and Merredin. The Merredin automated trap has recorded the most DBM moths with 24 captured. No DBM have been trapped near Albany yet.
Automated and manual native budworm moth trapping numbers will soon be available for viewing at the department's Native budworm moth numbers 2020 page and will be displayed on cesar's MothTrapVis page.
Pesticide options for the control of native budworm and DBM can be found in DPIRD's Winter/Spring Insecticide Spray Chart 2019.
Detailed information on native budworm can be found at DPIRD's Management and economic thresholds for native budworm page and 2020 PestFax Issue 7 article Native budworm and other moths are active.
For more DBM information refer to:
For more information contact Alan Lord, Technical Officer, South Perth +61 (0)8 9368 3758 or +61 (0)409 689 468.
Article authors: Alan Lord (DPIRD South Perth) and Cindy Webster (DPIRD Narrogin).