New blackleg sporacle forecast available
DPIRD's latest blackleg sporacle forecast, which is current to 20 June, is predicting that blackleg spores are now releasing in most of the southern and south-eastern districts. This includes Mount Barker, Williams, Narrogin, Darkan, Katanning, Jerramungup, Esperance and Scaddan.
Spores are close to being mature in Munglinup, Salmon Gums, Corrigin, Tammin and Lake King districts. Blackleg risk remains high in these districts.
In most of the northern and central districts the risk of blackleg is predicted to be medium as spores haven't reached adequate maturity in these areas as yet.
Please visit the department's Canola blackleg spore maturity forecast for Western Australia to find out for the forecast for other districts.
Canola pathologist Ravjit Khangura (DPIRD) says growers need to assess the risk of blackleg spore fall-outs on their canola crops.
Crops that are at the susceptible seedling stage and sown in a medium to high blackleg risk situation may particularly require foliar application if no fungicide has been applied at seeding and/or the risk of blackleg is too high.
Blackleg symptoms can be seen at all growth stages but plants are more vulnerable to severe infection and plant death up to the six leaf stage. Severe early infection can cause plant death at the early seedling and cabbage stage as shown in the picture below.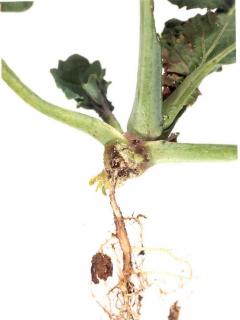 For further details on assessing the blackleg risk and management options refer to GRDC's Blackleg Management Guide (2018 autumn variety ratings).
The recently released BlacklegCM app can be downloaded onto tablets from the apple store or Google Play and used to support decisions on fungicide management options. Developer of the app Art Diggle (DPIRD) says that the app allows the user to enter information specific to their paddocks and circumstances. For more information refer to the department's BlacklegCM page.
For more information about blackleg in canola and the blackleg sporacle model contact Ravjit Khangura, Research Officer, South Perth on +61 (0)8 9368 3374 or Kawsar Salam, Research Officer, South Perth on +61 (0)8 9368 3104.