Beetles, weevils and other caterpillars are being found in crops
Cabbage white butterfly larvae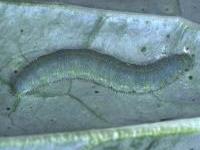 Sam Fetherstonehaugh (Farm and General) reports that cabbage white butterfly larvae has been found in canola crops in the Munglinup and Coomalbidgup areas. The caterpillars are being found in crops which have had a patchy germination. Canola plants are at the 2-8 leaf stage and there were at least two caterpillars present per plant. All the plants checked in the paddocks had caterpillars present and higher numbers were found in crop edges adjacent to pasture. Damage was first thought to be from kangaroos as some plants were chewed to ground level. Crops were sprayed with a synthetic pyrethroid to control the caterpillars. As cooler weather (temperatures below 18°C) occur it is expected that cabbage white caterpillars will not be an issue
Cabbage white butterfly caterpillars are plump, pale green and furry/velvety due to a fine covering of hairs. Faint yellow stripes can be seen along the caterpillars back and sides. When fully grown the caterpillars are 30mm in length before they form their hardened pupal case which hangs on the plant by silken threads. They cause large irregular holes when they chew on leaves.
The large (40-50mm wingspan) adult cream/white butterflies are easily recognised flying during the day just above canola crops.
Where required cabbage white butterfly caterpillars can be controlled with alphacypermethrin (400mL/ha), esfenvalerate 50g/L (400-500mL/ha), gamma-cyhalothrin 150g/L (20mL/ha) or lambda-cyhalothrin 250g/L (24mL/ha). A recommended softer option, as it is specific to caterpillars and will not harm other beneficial invertebrates, is the use of Bacillus thuringiensis (Bt) used at 1-4L/ha (see label).
For more information refer to the department's Diagnosing cabbage white butterfly page.
Desiantha weevil
Nick McKenna (Planfarm) has found desiantha weevils (also known as spotted vegetable weevils) in a seedling Cobra wheat crop at Yetna. The weevils were causing some plant damage (holes in leaves and chunks out of the sides) but the crop appeared to be outgrowing the damage.
Desiantha weevil adults are mottled grey-black in colour with grey flecks on the abdomen and have the typical elongated weevil snout. They grow up to 7mm long and are flightless. Larvae are white, legless grubs with orange-brown heads and grow to 8mm in length.
Desisantha weevil larvae feed on the roots of cereal crops while the adults are more commonly known to cause damage to canola crops. Larvae remain under the soil and digging may reveal the larvae close to plants. The larvae have been known to cause serious and widespread damage to late sown wheat and barley crops in previous years by feeding on the seeds and developing root systems of emerging cereals.
Control of larvae after seeding is not possible but reseeding with a higher rate of seed that has been treated with chlorpyrifos is sometimes worthwhile if there is sufficient crop damage.
For more information refer to the department's Diagnosing desiantha weevil in cereals page.
Vegetable beetles
Tim Trezise (Frankland Rural) reports that vegetable beetles have been commonly found in canola crops that have been sown after a lupin rotation at Frankland. The beetles have caused patchy damage.
Lab trials conducted by DPIRD entomologist Svetlana Micic have shown that vegetable beetles will cause damage to crops if day temperatures are 20°C and above. As soon as the cold, wet winter conditions prevail ie day temperatures of 15°C and below, damage by the vegetable beetle is expected to cease.
Vegetable beetles are very tolerant of insecticides. Svetlana says that currently registered insecticides for use on false wireworm (includes vegetable beetles) on canola such as chlorpyrifos (500g a.i) at 1.0-1.5L/ha with some labels stating that the application should be incorporated into the top 50mm of soil, have suppressed damage from vegetable beetles, however, many growers and agronomists have reported these rates did not cause vegetable beetle mortality rather beetles were 'subdued' and this allowed the crops to out grow the damage.
More information about vegetable beetles can be found at DPIRD's Diagnosing vegetable beetle damage.
For more insect information contact Svetlana Micic, Research Officer, Albany on +61 (0)8 9892 8591 or Dustin Severtson, Development Officer, Northam on +61 (0)8 9690 2160 or Alan Lord, Technical Officer, South Perth on +61 (0)8 9368 3758.