Description
Khapra beetles, scientific name: Trogoderma granarium Everts (Coleoptera: Dermestidae) are small, oval-shaped and densely hairy, reddish-brown beetles.
1.5-3.5mm long, 1.1-2.0mm wide
head and the first third of the body is dark reddish-brown
wing covers (elytra), reddish- or yellowish-brown, usually with indistinct lighter bands marked by whitish hairs
venter (underside) of body, reddish-brown
legs, yellowish-brown
hairs (setae) on the dorsal surface are of two types: evenly distributed, yellowish-brown; and on the wing covers two or three bands of indistinct yellowish-white
middle eye (median ocellus) on the front of the head is always distinct
antennae are yellowish-brown, short, with a distinct club
Please see PaDIL (Pests and Diseases Image Library) for high quality diagnostic and overview images.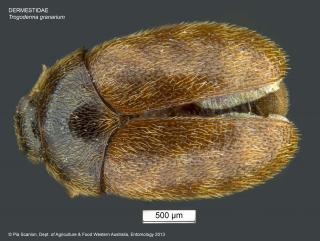 Newly hatched larva are whitish with yellowish-white hairs, 1.6-1.8mm long and 0.25-0.3mm wide. A little more than half of the length comprises a long tail of a number of hairs.
Mature larva are creamy coloured and covered with dense, brownish hair, about 6mm long and 1.5mm wide.
Warehouse, carpet and hide beetle larvae are almost identical in appearance to khapra beetle larvae. Only microscopic examination can separate them, so specimens should be sent to the Department of Primary Industries and Regional Development for positive identification.
Many non-pest native Trogoderma and native carpet beetle species are very similar. A conspicuous feature of khapra beetle infestation is masses of hairy larvae and their cast skins.