Do you want to win a 'Bug and Amazing Insects Display'?
We have extended our school holiday competition!
Closes 1 June 2018
Calling on all young bug hunters.
We asked you to make a trap over the school holidays and take photos of anything caught. The competition is still on! This time send us photos of your traps and any unusual bugs found in and around the house.
The school whose students send in the most photos will win an 'Bug and Amazing Insects Display'. We will also offer the winning school an incursion from one of our entomologists.
Download the instruction flyer and how-to-make-a-trap video.
Sending us photos is simple - download the MyPestGuideTM Reporter app or email padis@dpird.wa.gov.au. 
Response activities
Brown marmorated stink bugs (BMSB) were found in imported cargo in February 2018, at a warehouse in the Perth suburb of Jandakot.
The warehouse and cargo were fumigated by the Federal Department of Agriculture and Water Resources. DPIRD commenced surveillance in the area close to the warehouse, using specialised traps and lures.
DPIRD officers visited all properties within a 200m radius of the detection to provide information on this pest, and seek interest in hosting a trap. Where no-one was home, a contact card was left, with advice to contact DPIRD on 9368 3080 if interested in hosting a trap.
Further targetted surveillance is ongoing. DPIRD officers are clearly identifiable by uniform and are carrying photo identification. Support staff are also carrying photo ID. More than 200 traps have been deployed.   
A community awareness campaign within a 5km radius of the detection is underway to encourage residents and businesses to look for the pest and report any suspect sightings. This has included providing some local schools, libraries and businesses with fact sheets, a poster and a flyer on how to make a trap - to make available to the local public.
Please call us on 9368 3080 if you are interested in having flyers and a poster at your business or community location.
What to look for
BMSB is a voracious feeder with an extensive host range. Residents and businesses close to the detection are being asked to inspect gardens, homes and vegetation, and report anything unusual through MyPestGuide or to our Pest and Disease Information Service on 9360 3080. Some tips for looking:
Know how to recognise BMSB (see description below). If you see something similar or are unsure, please report.
Look for any unusual stink bugs on your plants or feeding damage.
Look for unusual aggregations of stink bugs in or on buildings.
They are attracted to light, and may be found in areas that are well lit at night.
They could possibly be found in spider webs near light sources.
Businesses handling imported goods, particularly from Italy and the United States, should also be on the lookout for BMSB. Anyone finding this pest (dead or alive) while unpacking imported goods should secure the package, not move it and report it quickly to the See.Secure.Report national hotline on 1800 798 636.
TO NOTE: BMSB looks similar to native Australian stink bugs but is larger. Look for checkerboard markings on its lower back and white bands on its antennae. 
Information video
Brown marmorated stink bug - information video.mp4
Make your own trap
Get involved in our community response by making your own trap. It is simple, cheap and a fun activiity for children. Download the 'make a trap' flyer and video from this page for instructions.
As of 27 March 2018 DPIRD has placed more than 200 specially designed BMSB traps within a 5km radius of the detection point. DPIRD staff are checking the traps regularly. If you come across our surveillance traps in Jandakot and surrounding areas, please leave them be as they are playing an important role in the search for BMSB.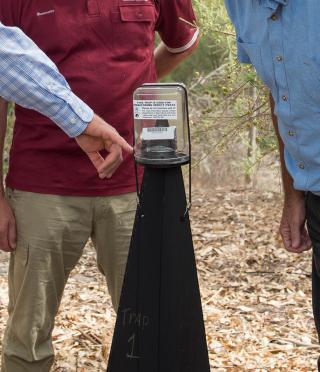 What happens if I find something in my trap?
Put trap, with bug still inside, into the freezer for at least 5 minutes - this will immobilise it.
Remove the bug from the trap to take a photo.
Place the bug back in the trap and contact us via our reporting options.
Reporting options
If you suspect you have seen BMSB: