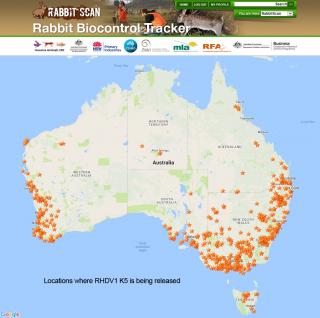 What you need to know
RHDV1 K5 is not a new virus. RHDV1 K5 is a naturally occurring Korean variant of the Rabbit Haemorrhagic Disease Virus (RHDV).
The release of RHDV1 K5 will be most effective if supported by conventional control measures following the release of the virus.
Its release is anticipated to reduce rabbit populations by up to ~ 40%. It is expected to 'boost' current management and help slow down the increase in rabbit numbers.
RHDV1 K5 is highly contagious, can be spread by insect vectors, and other animals feeding on infected carcasses may excrete the virus.
Domestic rabbit pet owners and breeders should seek advice from their veterinarian regarding vaccination, and should also implement biosecurity measures to protect their animals from infection (see advice for domestic rabbit owners).
Anyone who will be handling and mixing the liquid suspension virus will be required to complete online authorisation training (see training details).
Both landholders located close to release sites, and members of the public are urged to get involved in the release by using the RabbitScan (FeralScan) app to report rabbit sightings or signs of disease.  The RabbitScan app is available from iTunes or GooglePlay, or can be downloaded from the FeralScan website.
A series of instructional 'how-to' videos on best practice rabbit control has been released by the Invasive Animals CRC (see integrated control).
All release sites should have received in the mail information and sampling kits, which includes a USB flash drive of the rabbit control video series.
Land managers are strongly encouraged to carry out concurrent control for predators such as foxes (potentially looking for alternative food sources in the absence of rabbits).
Why do we need a new biocontrol agent?
Rabbits are Australia's most destructive agricultural pest animal, costing upwards of $200 million in lost agricultural production annually. Two rabbits can become 200 rabbits in just two years, and in another two years that could be 40,000. It is vital to keep on top of the problem with new interventions and new tools.
A Czech strain of Rabbit Haemorrhagic Disease Virus (RHDV) was first released in Australia in 1996 and proved extremely effective, knocking down up to 90% of the pest rabbit population in some parts of Australia.
However, in 2009 a native benign calicivirus, called RCV-A1, was identified as a factor for RHDV being less effective in cooler and wetter climates.
The release of RHDV1 K5 comes after more than 5 years of testing through the Invasive Animals Cooperative Research Centre (IACRC) RHD Boost project, with major financial and in kind resources provided by the Australian government, state governments, and industry and non-government organisations. 
After testing 38 variants of RHDV, this project noted that RHDV1 K5 should work better in the cool-wet regions of Australia where the current variant has not been so successful.