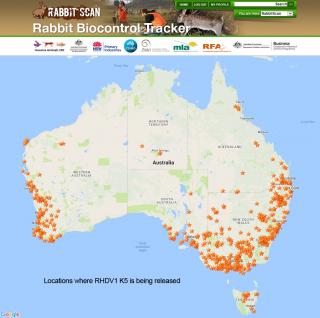 Preliminary analysis
Preliminary analysis has shown an observed reduction of up to 36% in rabbit numbers at Australian release sites following the release of RHDV1 K5 in March 2017.
Initial data is positive, however, long term success will be measured and seen through environmental benefits and increased productivity for the agricultural sector. It is important to stress that not all sites where RHDV1 K5 was released did experience the same results and results are based on all data collected.
The outcomes of the national RHDV1 K5 release will be published in a scientific report in the first half of 2019. 
Domestic pet rabbits and breeding stock
Owners should seek advice from their veterinarian regarding vaccination.
Owners should implement biosecurity

 

measures to protect their animals from infection.
Download this flyer for distribution.
Background
RHDV1 K5 is not a new virus. RHDV1 K5 is a naturally occurring Korean variant of the Rabbit Haemorrhagic Disease Virus (RHDV). Its release is expected to 'boost' current management and help slow down the increase in rabbit numbers.
RHDV1 K5 is highly contagious, can be spread by insect vectors, and other animals feeding on infected carcasses may excrete the virus.
Domestic rabbit owners are advised to seek advice from their local veterinarian and use protective biosecurity measures to help keep their rabbits safe from infection. 
You can help
Landholders are asked to help maximise outcomes from the virus release by undertaking follow-up conventional control, coordinating any future releases at a landscape level, report rabbit sightings, and submit samples from dead rabbits for testing.
RHDV1 K5 is now available as a commercial product to authorised users, however landholders are asked to wait for late Spring or Autumn before releasing the virus.
Training and virus distribution
Winter is not best practice period for release. Late Spring and Autumn are ideal conditions for deliberate releases of RHDV1 K5, when insect activity is high, but when there are also a low proportion of very young rabbits present. 
The supply and use of RHDV1 K5 in WA to authorised users was enabled under the Biosecurity and Agriculture Management Regulations Amendment 2017 (Government Gazette Friday, 3 February 2017). Under the regulations, anyone who will be handling and mixing the liquid suspension virus must complete on-line training to become authorised users of RHDV. RHDV1-K5 Authorisation Training is available from DPIRD's Client Online Training website.
Coordinated, landscape scale release of rabbit biological control viruses will maximise effectiveness and produce greater results than patchy, individual landholder releases. DPIRD recommends land managers contact their local biosecurity group before applying for the virus to coordinate a release or to determine if a release has already occurred within their area. Biosecurity group contact details are available within the online RHDV1 K5 training package. 
The commercially available rabbit biological control virus, RHDV1-K5, can be released by authorised users in Western Australia who have completed their training. Although DPIRD keeps a record of authorised individuals and their post code, we are not informed of when or where individual releases of the virus occur. DPIRD does not routinely undertake virus release for pest rabbit control.  Under collaborative research programs, DPIRD has undertaken a few releases since the initial 2017 nation-wide release of RHDV1-K5, at trial sites.
One vial of RHDV1-K5 will treat approximately 150 hectares of rabbit prone land (less if rabbit density is high). The virus is either mixed onto bait (oats or carrots), or can be directly injected into live rabbits. Both techniques require some pre-feeding to get rabbits eating bait or for attracting them into approved wire cages. Oats should be standard intact oats with husks attached and carrots should be good quality and freshly diced. One vial reconstituted product (10 mL) diluted with an additional 90 mL of water (100 mL total volume) is sufficient to treat 10kg of freshly diced carrots OR 5kg of oats. For information on the delivery of RHDV, see the PestSmart webpage.  For more information about the cost of the virus, contact the NSW Department of Primary Industries (DPI) Virology labs (02) 4640 6337 or virology.enquiries@dpi.nsw.gov.au.
Submit reports and dead rabbit samples
The Invasive Animals Cooperative Research Centre (CRC) expects RHDV activity to increase in the coming months and the RHD Boost research team encourages landholders to report any rabbit sightings or signs of disease, and submit samples from dead rabbits.
A national approach is in place for the collection and testing of all potential RHDV+ rabbit samples. This process allows for national coordination of data, samples, messages and provides all labs access to the samples they need. This will continue for at least the next two years, and hopefully longer.
Online information can be provided (once you have a sample or samples) via the FeralScan website or the FeralScan smartphone app – available via iTunes and GooglePlay.
For any questions or technical support regarding these processes please contact Emma Sawyers on 02 6391 3834 or rhdboost@invasiveanimals.com.
Carry out integrated control
The release of RHDV1 K5 is part of a 20 year national biocontrol plan for rabbits. It will not result in a 90% reduction of pest rabbit populations, as seen with other biocontrol releases.
It is critical then that landholders undertake an integrated and complementary pest management approach, with conventional control measures put in place following release of the virus. This could include starting a conversation with neighbours with the aim of integrated best practice rabbit control at a landscape scale.
Land managers must also consider concurrent control for predators such as foxes (potentially looking for alternative food sources in the absence of rabbits). A reminder to carry out Integrated Pest Management is included on the virus product label directions and in the online RHDV1 K5 training package.
A video series on best practice rabbit control has been released by the Invasive Animals CRC to increase skills in control programs. The videos include instructional 'how-to' videos to demonstrate control procedures such as poison baiting, baiting with biocontrol agents, rabbit warren fumigation, rabbit warren ripping and harbour destruction. It also includes video instructions for the RabbitScan (FeralScan) app and information on the RHDV1 K5 release.