Cockchafers are causing extensive damage in cereals and pastures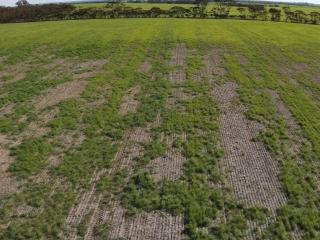 A grower has experienced significant cockchafer damage in tillering barley east of Kondinin. Plants along patch edges are showing yellowing lower (not upper younger) leaves, then complete yellowing and dead leaves further into patches. Digging up one plant at a time yielded one to 4 cockchafer larvae in or just under the root zone. Cockchafers are being reared to identify the species.
Two other growers have also reported concerning amounts of cockchafer damage in the Kondinin area in cereals. The more damaged areas do not seem to be near bushland or along crop edges, most damage is inwards into the paddock. One 80 ha paddock would have 20-30% plant loss.
Foliar insecticide applications are having little or no effect on cockchafer numbers.
A barley crop east of Woodanilling has also experienced extensive damage from cockchafers. As the cockchafers did not appear to be African black beetle (ABB) larvae they were sent to taxonomist Andras Szito (DPIRD) who identified the cockchafers as Heteronyx obesus.
A local consultant reports that cockchafers are causing damage to cereals and pastures over a number of properties east of Woodanilling.
Cockchafers are native insects that occasionally reach damaging levels when conditions favour adult egg laying.
Larvae feed on underground plant parts, causing them to wither and die potentially leading to large bare areas. Crops after pasture are more likely to be damaged with damage worse near tree belts.
Cockchafers belonging to the genus Heteronyx are typically not regarded as a pest of agriculture. However, two have been seen as occasional pests, with H. obesus causing severe damage to a range of crops and pastures, and H. elongatus causing damage to pastures and eucalypt seedlings.
Cockchafer larvae found only in soil and are up to 12 millimetres long, creamy-white with a darker head and curled into a 'C' shape.
Identification of cockchafers belonging to the Heteronyx genus is difficult. Larvae can only be separated by the layout of hairs around the anus and the adults have few distinguishing features. This is compounded by the fact that there are thousands of species, many of which have never been identified. 
The adult beetles can come to the surface at night but are usually very difficult to eradicate because they predominantly feed underground and avoid contact with surface applied insecticides. The insecticide needs to penetrate the soil surface where the larvae are.
Growers finding cockchafers damaging their crops can request a species diagnosis by contacting DPIRD's Pest and Disease Information Service (PaDIS) by email or phone on +61 (0)8 9368 3080.
To read about previous ABB larvae cockchafer activity reported to PestFax this season refer to the 2020 PestFax Issue 4 article African black beetle larvae (cockchafers) found in emerging barley.
For more information on cockchafers refer to DPIRD's Diagnosing cockchafers and Cockchafer damage to broadacre crops pages.
For more information contact Svetlana Micic, Research scientist, Albany on +61 (0)8 9892 8591 or Alan Lord, Technical Officer, South Perth +61 (0)8 9368 3758 or +61 (0)409 689 468.
Article authors: Cindy Webster (DPIRD Narrogin) and Dustin Severtson (DPIRD Northam).