Damage caused by aphids
Virus transmission
Aphids are vectors of two important lupin viruses: cucumber mosaic virus (CMV) and bean yellow mosaic virus (BYMV). Yield losses are greatest when aphids have arrived early into the crop. BYMV is not seed borne, whereas CMV can be. Lupin varieties differ in their susceptibility to viruses. See links in the 'See also' section for further information on these viruses.
Feeding damage
Lupins are most vulnerable to aphids during budding and flowering, as severe feeding damage on growing tips can cause buds to drop, flowers to abort and reduced pod set. Aphids produce a sticky substance called honeydew which coats the plant surface. Sooty mould grows on this honeydew and can further reduce plant health.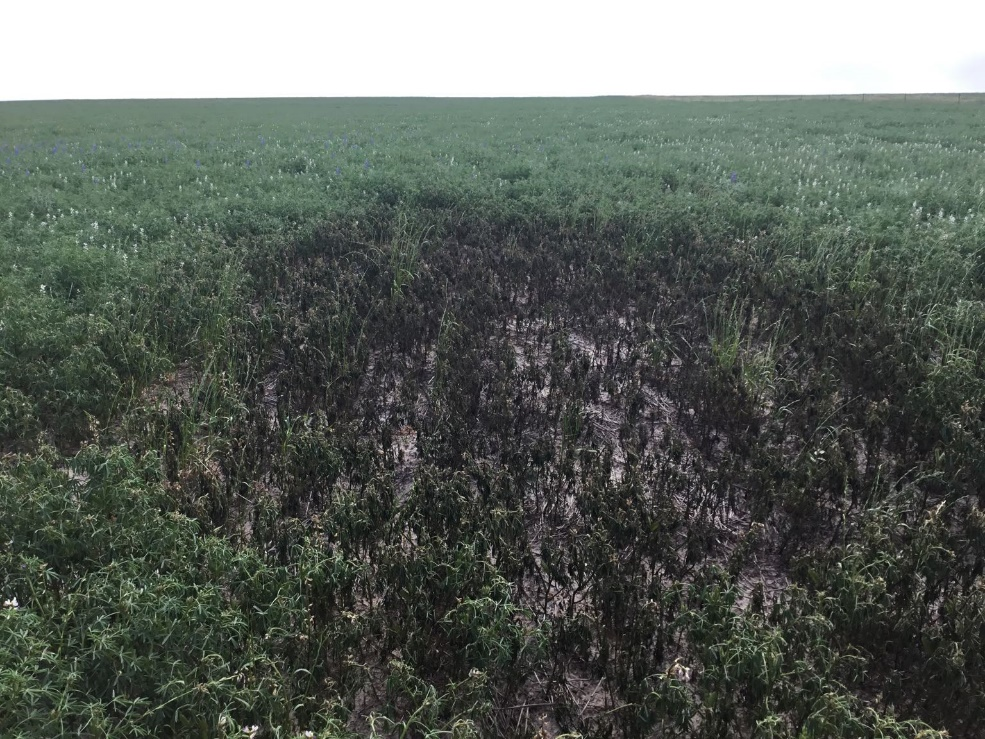 The lupin variety grown will influence the potential size of the aphid population and subsequent damage. Narrow leaf lupin varieties vary in their susceptibility to aphids. Albus lupin are considered to be resistant to aphids.
Table 1 Susceptibility of narrow leaf lupin varieties grown in Western Australia to aphid colonisation and aphid borne viruses: cucumber mosaic virus (CMV; seed borne) and bean yellow mosaic virus (BYMV). Key: VS=very susceptible, S=susceptible, MS= moderately susceptible, MR=moderately resistant, R=resistant, VR=very resistant. Source: Pulse Breeding Australia.

| Variety | Aphids | CMV (seed borne) | BYMV |
| --- | --- | --- | --- |
| Belara | S | MS | S |
| Coromup | R | MR | MS |
| Danja | MR | MR | S |
| Gungurru | MRMS | MS | S |
| Jenabillup | R | MRMS | MR |
| Jindalee | MRMS | MS | S |
| Kalya | R | MRMS | S |
| Mandelup | R | MRMS | S |
| Merrit | MRMS | MS | S |
| Myallie | MS | MRMS | MS |
| PBA Barlock | R | MR | MS |
| PBA Gunyidi | R | MRMS | MS |
| PBA Jurien | R | MRMS | MR |
| PBA Leeman | R | MS | MS |
| Quilinock | MS | MR | MR |
| Tallerack | VS | S | MS |
| Tanjil | R | R | MS |
| Wonga | R | R | MS |
| Yorrel | VS | MS | S |