Chris Gazey
Senior Research Officer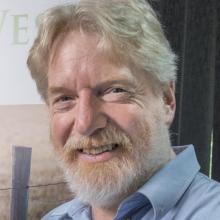 My role in the department
In 2017 I took on the Soil Productivity portfolio manager role. This position oversees soil management related projects in the Grains Research and Development Transition directorate and contributes to the strategic direction of soil RD&E in the Department of Primary Industries and Regional Development.
We have a strong role in assisting growers to better manage soil constraints. With colleagues, we are achieving this by: providing evidence based long-term information on the benefits of removing acidity, addressing compaction, managing water repellence, nutrition and other subsoil constraints to production.
I also work closely with the Lime WA Inc group of independent suppliers of agricultural lime to monitor progress towards managing soil acidity.
My background
I have more than 30 years experience in agriculture research and industry development including more than 10 years at the University of Western Australia in soil microbiology and more than 20 at DPIRD which has included managing many state and national, externally funded soil related projects collaborating with private enterprise, UWA and CSIRO.
Projects
Soil Productivity Portfolio (DPIRD) including the Grains Research and Development Soil Constraints West projects
Soil acidity is limiting grain yield, DAW00236 collaborating with three interstate GRDC projects
Innovative approaches to managing subsoil acidity in the Western Region, DAW00252 collaborating with interstate projects in the Soil Constraints Initiative
Key Expertise
Managing complex collaborative projects related to soil management with inter and intrastate involvement from private, government and educational organisations
Qualifications
President: Soil Science Australia (WA branch) Current
Dip Project Management, Central Institute of Technology, 2015
M Sc (Agric), The University of Western Australia, 1992
B App Sci (Biol), WAIT (now Curtin University), 1982