Dr
Ben Biddulph
Research Scientist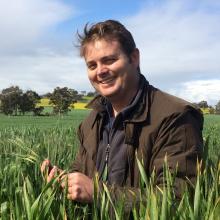 My role in the department
Dr Biddulph's role involves working with DPIRD's strategic partners in the WA and national grains industry and overseeing grains industry research and development in wheat and barley abiotic stress research, with a particular focus on developing farm business less susceptible to abiotic stress damage including frost, drought, heat, waterlogging and salinity.
My background
Dr Biddulph has more than 15 years experience in agricultural research and industry development of cereals in Australia at DPIRD. His experience combines a background in cereal physiology, agronomy, project management, grains research, development and communication. Ben has developed project delivery across grain production regions of WA, SA, Vic and NSW with grower groups, research organisations, regional R&D providers and agribusiness.
Ben was also awarded the GRDC Seed of Light (2014) for Excellence in extension and communication to the WA grains industry.
Projects
UA00136/UA00162 A national GRDC project led by University of Adelaide, with the WA node led by DPIRD benchmarking the variation in susceptibility of commercial wheat and barley varieties for reproductive frost damage.
9175445 A GRDC funded National Phenology Intiative led by La Trobe University with the WA field component led by DPIRD, to develop a flowering time model to predict how new wheat and barley varieties are likely to perform when sown early or late
DAW00241/DAW00260. A national GRDC project led by DPIRD examining farming systems and management practices which change the severity and duration of reproductive frost damage in cereals.
Key Expertise
Cereal physiology, cereal agronomy, frost research, drought, waterlogging, salinity, phenology, abiotic stress, project management, extension, communication
Qualifications
Doctor of Philosophy, University of Western Australia, Cereal Physiology 2006
BsC in Agriculture with Honours, University of Western Australia 2002