Dr
Ben Biddulph
Chief Scientist, Primary Industries and Development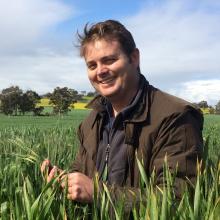 My role in the department
Dr Ben Biddulph is the Primary Industries Chief Scientist. His work involves working internally and externally with DPIRD's grains, farming systems, livestock, horticulture and aquacultures strategic partners in the WA primary industries. Ben's role oversees grains industry policy and analysis, business and industry development and the implementation of National Research, Development and Extension (RD&E) Strategy.
My background
Ben is an experienced program manager with qualifications in agricultural science, education, business and project management. He has more than 20 years industry experience in business management, leading and managing research and development project delivery, policy, stakeholder engagement, grains research and development, extension and communications across industry in WA and nationally.
Projects
Western Australian Agricultural Collaboration with CSRIO and the WA universities including UWA, Curtin and Murdoch
National CRC linkages
Key Expertise
Program management, policy and strategic planning, stakeholder engagement, communications, agricultural education, grains research and industry development.
Qualifications
Doctor of Philosophy, University of Western Australia, Cereal Physiology 2007
BsC in Agriculture with Honours, University of Western Australia 2002
My articles
Thursday, 7 April 2022 - 2:35pm
Tuesday, 15 March 2022 - 1:09pm