Phomopsis can be a risk when grazing lupin stubble
Plant pathologist Geoff Thomas (DPIRD) recently discovered Phomopsis lesions in a crop of Coyote lupins in a paddock in the Albany port zone.
The crop was at leaf drop and Phomopsis lesions were evident on stems. Stem lesions usually become visible as the plants senesces, but it is unusual to observe disease expression while the plant is still green.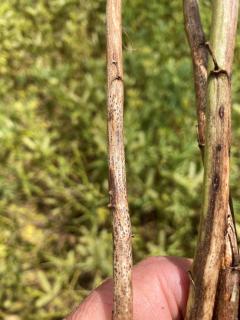 Phomopsis infection has previously been reported in the Geraldton region this season. For more details refer to the 2022 PestFacts WA Issue 16 article Anthracnose and Phomopsis in lupins.
Symptoms and impact
Phomopsis stem and pod blight is caused by the fungus Diaporthe toxica. It occasionally causes yield losses, however the major impact of infection is the production of a toxin by the fungus as it grows in mature or senesced lupin stems or in seed. The toxin can cause livestock sickness or death (lupinosis) if they graze of infected stubble or if they are fed infected seed.
Phomopsis stem lesions are not usually visible on green plants, the fungus will infect green plants but remains latent as microscopic structures until senescence of the plant tissue. Rain and moisture on senescing or dry lupin stems allow the fungus to grow saprophytically producing characteristic black fruiting bodies on affected stubble. Chemical desiccation or plants suffering a period of premature moisture stress can lead to rapid expression of stem symptoms as plants senesce.
Varieties
The fungus is present in all lupin growing regions and every year virtually all lupin crops in WA will be infected to some degree, however most varieties are moderately resistant or better and are low risk.
Lupin varieties such as Coyote, Jenabillup and Quilinock are more susceptible to infection in stems and pose a greater risk of lupinosis for grazing animals, particularly after summer rainfall.
Varieties such as Mandelup and Quilinock have greatest risk of infected pods and seed.
Further information
For more information on lupinosis and safe grazing of lupin stubbles contact your local DPIRD veterinary officer or refer to DPIRD's Lupinosis in sheep page.
For more information on Phomopsis refer to DPIRD's Diagnosing phomopsis stem and pod blight in narrow leafed lupins page or the 2022 PestFacts WA Issue 16 article Anthracnose and Phomopsis in lupins.
For more information on lupin diseases contact Plant Pathologists Ciara Beard, Geraldton on +61 (0)8 9956 8504 or Geoff Thomas, South Perth on +61 (0)8 9368 3262.
Article authors: Ciara Beard (DPIRD Geraldton) and Geoff Thomas (DPIRD South Perth).
Article input: Anna Erickson (DPIRD Narrogin).