The Department of Agriculture and Food is calling for producer and community input into the development of a targeted weed surveillance program for the South West.
The project will focus on 20 high priority declared weeds, declared under the Biosecurity and Agriculture Management Act 2007 (BAM Act), such as kochia, golden dodder, wheel cactus and hoary cress which have a significant impact on agricultural productivity and production. Five of the 20 weeds will be chosen by industry.
The work is part of the $20 million Boosting Biosecurity Defences program led by the department and funded through the Seizing the Opportunity Agriculture initiative made possible by the State Government's Royalties for Regions program.
Department Biosecurity and Regulation Director Deb Cousins said controlling weeds cost the Western Australian agri-food sector $341 million annually in lost revenue.
"It is important for producers and the wider community to work together with the department, to develop a program which will have maximum impact on control and eradication of declared weeds, improving productivity and ultimately profitability," Dr Cousins said.
Project leader Tamrika Lanoiselet said stakeholders would be consulted in early 2015 on which weeds to select for surveillance, how they wanted to report declared plants and what information they needed to report and manage them.
"The department will be calling for expressions of interest this month (January 2015) from individuals and biosecurity groups who wish to be involved in the project," Dr Lanoiselet said.
"Focus groups are also planned to discuss the development of new systems, tools and applications to assist in finding declared plants, map weed incursions, map weed free areas and manage weeds."
Further details on the project can be found on the Department of Agriculture and Food website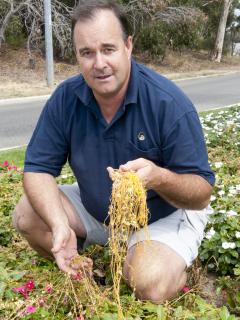 Media contact:
Jodie Thomson/Katrina Bowers, media liaison, +61 (0)8 9368 3937