Broadacre producers planning to undertake weed control have been reminded to ensure the quality of the water in their spray tank does not compromise herbicide performance this season.
While variable rainfall across the agricultural region in recent weeks has prompted weed germination, some landholders in the Great Southern may have sub-optimal water supplies with which to mix herbicides, due to below average seasonal conditions.
The Department of Primary Industries and Regional Development has developed a short list of herbicides and insecticides on its Season 2019 webpage and detailed how different water qualities can impact on their performance.
Department research officer Alex Douglas urged landholders who were not confident in the quality of their water to test it before they pulled out the spray rig.
"Landholders in areas that have recorded below average rainfall may be forced to source water from alternative sources, as their dam, tank or bore water may not be of adequate quality for mixing with herbicides," Ms Douglas said.
"It is best to use the best quality water available and if landholders do need to use water that is less than optimal do so as soon as possible and don't leave the mix standing in the tank for any length of time.
"If growers are not confident in the quality of their water, it is best to test it. Details about how to do that are on the website."
Poor water quality can increase chemical breakdown, reduce herbicide activity, precipitate the chemical out of the solution and also create spray line blockages.
The department's Season 2019 webpage also includes a table of how water quality factors affect chemical performance and lists possible remedies.
Ms Douglas said growers with depleted water supplies may have to contend with muddy water, which could pose a risk to their spray program.
"Muddy water can contain suspended clay or silt particles, which can absorb and bind with some herbicides and reduce their efficacy, particularly glyphosate, paraquat and diquat chemicals," she said.
"It is recommended to treat muddy or cloudy water with lime or alum, which settles out the particles so they sink to the bottom of the tank or dam.
"However, water treated with alum may leave free calcium or aluminium in the water, which can react with certain chemicals, like glyphosate or atrazine, so it is best not to use these treatments."
Landholders with depleted water supplies may also have to deal with the risk of saline water, which can interfere with chemicals.
"Very saline water is resistant to acid changes so the department recommends mixing such water with fresh water from other sources," Ms Douglas said.
The Water Corporation reminds farm businesses that require access to large volumes of water for crop spraying to do so through designated high capacity local government standpipes to prevent potential impact on other drinking water supply scheme users.
"We recognise farming businesses may have to travel further to reach high capacity standpipes but under the present circumstances, where there is high demand for spraying, we're asking everyone to be considerate with how they access large quantities of scheme water," Water Corporation regional manager Adrian Stewart said.
"Standpipes are primarily available for stock watering to prevent animal welfare issues but local governments do have several high flow standpipes available where larger volumes for spray water can be accessed."

Mr Stewart said the Water Corporation always tried to keep standpipes open but it was important for users to have other water supply contingencies available in case they had to be restricted or closed to preserve tank levels in the event of very high use.
More information on standpipes and their location is available from local governments or the Water Corporation's website.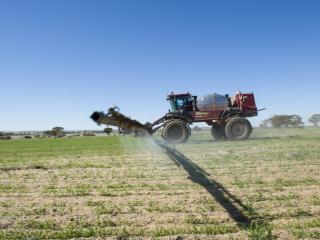 Media contacts:
Jodie Thomson/Megan Broad, media liaison                        
+61 (0)8 9368 3937