Fountain grass
Many grasses produce pollen that can trigger asthma and hay-fever, so garden owners who suffer from these allergic reactions would be wise not to grow them.
Fountain grass (Pennisetum setaceum), from eastern Africa, is undesirable for another reason. It invades bushland and roadsides around Perth and from Geraldton to York. The fluffy heads contain many seeds that are transported long distances by the wind.
Clumps can be dug or pulled out of the garden, but first cut off the seed-heads and seal them in a plastic bag to prevent seed blowing away.
Gazania
As low maintenance, water-wise gardens have increased in popularity, so has the hardy South African gazania, which thrives in beachside situations. There are now many cultivars available.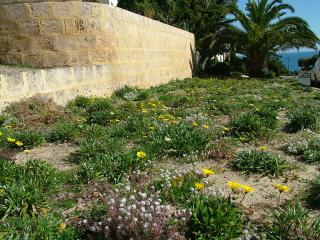 However, the 'wild' species Gazania linearis has invaded road verges and bushland in coastal areas (notably the Perth metropolitan area), the southern wheatbelt and the goldfields.
This gazania spreads by rooting along its stems and from seed carried by wind or water. Pulling or digging out is the best way to remove it from gardens.