MyWeedWatcher was developed to help the community to report new occurrences of potential weeds at an early stage so that preventative actions can be taken.
In addition to reporting new weeds, MyWeedWatcher helps community and biosecurity groups better manage their local weed problems. When the community uses the online web app or smartphone and tablet app to identify, survey and map weeds the community and biosecurity groups can view results online.
The Peel-Harvey Biosecurity Group aim to use MyWeedWatcher data to start their cotton bush management programs. However, there is currently not enough baseline data. Reporting cotton bush will help the Peel-Harvey Biosecurity Group in their management of cotton bush.
Further information on MyWeedWatcher can be found on our website at: MyWeedWatcher information. 
MyWeedWatcher phase 2 development
Requirements have been written and the DAFWA developers are going over them to determine the best way to proceed. If you would like a copy of the requirements please contact me on a number below.
Improving MyWeedWatcher login/registration
Login/registration has given us the biggest hurdle to jump in MyWeedWatcher uptake. We have discussed this with users and have a number of initiatives in place to make submitting a weed report, registration and login easier.
Phase 2 of MyWeedWatcher will provide an alternative to registration. Registration will be optional and you will be able to submit a weed report with an email.
Phase 2 will see a separate registration process implemented to improve the registration process for those who wish to register. While we wait for phase 2, the DAFWA website registration is being made easier.
Training material on how to use MyWeedWatcher
Training material showing you how to use MyWeedWatcher is available, and can be found at: www.agric.wa.gov.au/myweedwatcher-training-material.
Update on the water hyacinth drone trial
The update on the water hyacinth drone trial along the Serpentine River will need to wait until the next MyWeedWatcher update. The project officer David Hill who was working on the drone trial, was re-assigned to the Tomato Potato Psyllid incident. He will be back as soon as possible. For more information on the Tomato Potato Psyllid incident see DAFWAs website at: https://www.agric.wa.gov.au/tpp.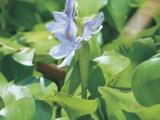 Online weed identification courses
To improve your skills at identifying weeds, DAFWA has published 23 small online weed identification courses available at http://dafwa.moodle.com.au/externaluser/.
Let us know what you think!
Weed of the month: Horsetails
When agricultural or environmental weeds are found early enough it is possible to eradicate small or isolated infestations with prompt action. Often it is keen-eyed members of the public who set the process in motion by recognising and reporting new weeds. The weeds featured this month are horsetails (Equisetum species), which are primitive non-flowering perennials dating back to the Palaeozoic Era.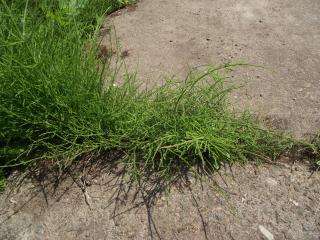 Ancient survivors
Horsetails (Equisetum species) have occasionally been sold as ornamentals, and they are also of interest to people who take the risk of making their own herbal remedies. Sometimes they are used in permaculture or as pond plants.
The erect, jointed stems are of two kinds, vegetative and fertile. Vegetative stems are green and ribbed. They can be a single stem or have whorls of slender leaf-like branches. Fertile stems can be green, white or pale brown, topped by fruiting cones. On both stems the true leaves are reduced to a papery ring around each joint. Once established, the main means of spread is by rhizomes rather than spores.
In a backyard, the worst horsetails can do is smother the area, but if they escape into farmland the consequences are dire. They are toxic to livestock, and in high densities they can reduce crop yield because they produce substances that inhibit the growth of other plants.
In the past, infestations of a horsetail called scouring rush (E. hyemale) have been found in the Perth metropolitan area at nurseries in Bedfordale and the Wanneroo area, and a home garden in Morley. Like all horsetails, this one has a high silica content, and the common name arose from the old practice of using the stems to scrub pots and pans. Several other species, including common horsetail (E. arvense) have been found in the eastern states. 
Please report any horsetails seen in the wild, in gardens or at weekend markets. If you have horsetail plants, do not attempt to dispose of them yourself. Please call us for advice as horsetail plants generate readily from fragments. Always take care when ordering plants or seeds via the internet, and never dump any garden rubbish in the bush
Reporting unfamiliar weeds
You can report biosecurity concerns or unfamiliar weeds using MyWeedWatcher or alternatively, contact the Pest and Disease Information Service on 1800 084 881 or email info@agric.wa.gov.au.
Follow up on reporting internet weeds
The MyWeedWatcher weed surveillance project continues to search the internet for sales of declared weeds to and in Western Australia.
Help us find internet sales by reporting them on MyWeedWatcher .
What to do: put the internet address into the notes and roughly indicate where the seller is on the map (phase 2 hopes to have an internet checkbox for location: depending on funding).
Every time we find or are sent a webpage selling a declared weed the following occurs:
If the declared weed is from an Australian state where it is also a declared weed.

We report the webpage to their state agency. The seller gets a visit from their state compliance officer.

If the declared weed is from overseas or an Australian state where it is permitted.

We report the webpage to a federal officer. The officer contacts the seller asking them to add text to the web page to let buyers know the weed cannot be sold into WA. If they are not compliant the officer contacts E-bay or Gumtree and that seller is blocked from selling any product in Australia until they comply.  Pages have now started to include wording like "Cannot post to WA".   
Weeds to report in March and April
Declared weeds to report in March and April
  Horsetail: declared pest

  Wheel cactus: declared pest
  Purple flower devil's claw: declared pest
  Acacia: declared pest
Weeds the community can map in March and April
Weeds mapped in February 2017 
At the end of February 2017 MyWeedWatcher had:
A total of 1305 installs on active devices

A total of 259 weed reports made 
In February, 9 weeds were mapped using MyWeedWatcher. They included 4 declared weeds (C3 management), 4 permitted weeds, and 1 unknown weed (Table 1).
To find out more about declaration status and control categories of weeds and other organisms visit the Western Australian Organism List at: Western Australian Organism List (WAOL).
Table 1 Weeds mapped to MyWeedWatcher in February 2017. 
| Common Name | Pest | LGA | Declaration status | Category |
| --- | --- | --- | --- | --- |
| African lovegrass | Eragrostis curvula (Schrad.) Nees | BELMONT | Permitted - s11 | - |
| African lovegrass | Eragrostis curvula (Schrad.) Nees | BELMONT | Permitted - s11 | - |
| African lovegrass | Eragrostis curvula (Schrad.) Nees | BELMONT | Permitted - s11 | - |
| common heliotrope | Heliotropium europaeum L. | CANNING | Declared Pest - s22(2) | C3 |
| lantana | Lantana camara L. | KALAMUNDA | Declared Pest - s22(2) | C3 |
| narrow leaf cotton bush | Gomphocarpus fruticosus (L.) W.T.Aiton | MURRAY | Declared Pest - s22(2) | C3 |
| narrow leaf cotton bush | Gomphocarpus fruticosus (L.) W.T.Aiton | BELMONT | Declared Pest - s22(2) | C3 |
| olive | Olea europaea L. | JOONDALUP | Permitted - s11 | - |
| - | Unknown | BELMONT | - | - |