Off with their heads
The scale of invasion can be devastating. Arum lily (Zantedeschia aethiopica) covers thousands of hectares of forest and wetlands from Geraldton to the south coast of WA, forming monocultures that ruin wildlife habitat. When it invades pasture it can poison livestock.
Gardeners growing the arum lily can admire them in their home garden without worrying about contaminating surrounding bushland if the blooms are removed as soon as they wilt and binned or composted so that the berries cannot form.
The sale of plants of arum lily is banned, although it is not illegal to have it in the garden.
A number of invasive plants have now been withdrawn from the nursery trade, but others remain staples at the garden centre. Many home gardens feature agapanthus (Agapanthus praecox) which is also widely used in amenity horticulture. Yet, agapanthus is invading the bush in south-western WA. If you choose to grow agapanthus in your garden either choose sterile varieties or dead-head plants before the seeds develop.
How to choose wisely
When looking for new garden plants ask staff at accredited nurseries about the potential weediness of the plants you are considering buying.
Only buy seeds, plants or bulbs from the Internet or mail order catalogues from reputable suppliers. Some plants sold in other Australian states are not allowed entry into WA because of their weediness or because they are hosts of diseases not yet present in our state. Check with Quarantine WA (telephone +61 (0)8 9334 1800) for details, ensuring that you have the full botanical name (genus and species) of the plant.
Changes in garden design
In the past 10 years the garden scene has altered, particularly in suburban Perth and other major urban centres, with the amount of garden space substantially reduced. Older blocks are cleared and subdivided with very little land for gardening. In new developments the sales package often includes landscaping.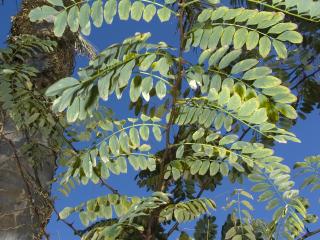 Most landscape designers now use a mix of plants with low invasiveness, after learning lessons from poor choices of plants in the past. For example, 20 years ago the "mop-top" form of robinia (Robinia pseudoacacia) enjoyed brief popularity until landscapers realised this tree has a strong tendency to sucker, not only where it was planted but also into the neighbours' gardens.
Well-established gardens often contain a surprising number of potentially weedy plants, which well-meaning but ill-informed people can spread throughout the community. If a neighbour offers you cuttings of a climber or creeper and says it will cover your fence in no time, beware! That plant might be able to take over the entire garden. Climbers and creepers are among the most destructive weeds in the bush as they can smother ground vegetation and topple the native trees by their sheer weight.
Other sources of invasive garden plants are car-boot sales and weekend markets, as well as sales at school fetes and fund-raising events. The kindly people who donate are likely to pot up plants that have multiplied rapidly in their own gardens.
Ground asparagus (Asparagus aethiopicus) and fishbone fern (Nephrolepis cordifolia) are the sort of plants that often turn up at charity events and people buy them because the money is for a good cause. They might later regret their generosity when these plants run out of control in their gardens and become hard to eradicate.
Even sensible gardening practices can accidentally move weeds around. We are all urged to spread mulch on our garden beds to save water. Mulch and woodchips sometimes contain seeds, especially if derived from mulched street tree prunings (available from many councils) so look out for any odd seedlings that may appear from the mulch and remove them before they turn into a nuisance. Cape lilac (Melia azadarach) is often spread this way.
If you are setting up a garden from scratch it is vital to learn which plants are invasive. By avoiding them you will do yourself and the environment a true favour.