Background
A range of options exist for managing water repellence in sandplain soils.
Mitigation options include furrow sowing and banded soil wetting agents that assist water entry into repellent soils.
They are relatively cheap to implement each season but need to be repeated every year.
Soil amelioration options include one-off mouldboard ploughing, rotary spading and claying that either physically remove or overcome the topsoil water repellence.
These options can give longer term benefits but are slow and expensive to implement so they need to provide significant long-lasting productivity benefits in order to provide a good return on investment.
Aim
To compare the grain yield responses to a range of soil amelioration treatments applied to water repellent pale deep sand and assess the time required to achieve a return on investment.
Trial details
Table 1 Trial details
Property
Sandown, Badgingarra
Soil type
Pale deep sand
Crop/variety
2014 - lupin
Paddock rotation
Wheat-lupin
Treatments

Control (untreated)

Clay spreading

Mouldboard ploughing

Rotary spading

Offset discs

One-way ploughing

Replicates
Repeated controls

Growing season rainfall

(April-October)

2011 - 485mm

2012 - 331mm

2013 - 446mm

2014 - 407mm
This large-scale on-farm soil amelioration trial was established in 2011 on highly repellent pale deep sand and included the following soil amelioration treatments:
Mouldboard ploughing – fully inverts the soil, burying the repellent topsoil and associated nutrients and weed seeds under a layer of wettable subsoil.
Rotary spading – partially buries and mixes the topsoil into the subsoil, importantly spades lift seams of subsoil to the soil surface which act as preferred pathways for water entry.
Offset discs – cultivates the topsoil to a depth of 10-12cm, relatively little engagement with the subsoil, reasonably thorough mixing.
One-way ploughing – cultivates the topsoil to a depth of approximately 15cm, some engagement with the subsurface soil.
Clay-spreading – clay-rich subsoil applied with a multi-spreader and incorporated into the topsoil, clay increases soil surface area and overcomes the water repellence.
Untreated control plots were replicated throughout the trial so that site variation could still be assessed despite not having replicated treatments. The plots are 9m x 190m.
Results
In 2014, the site was sown to lupins.  A shortage of seed meant that the seeding rate was low and reduced the potential yield of the crop, with the untreated plots yielding from 0.76t/ha to 1.35t/ha (Figure 1).
The site had repeated control strips to account for site variation and there was a trend towards increasing yield from the eastern (mouldboard ploughing) to the western (one-way plough) end (Figure 1).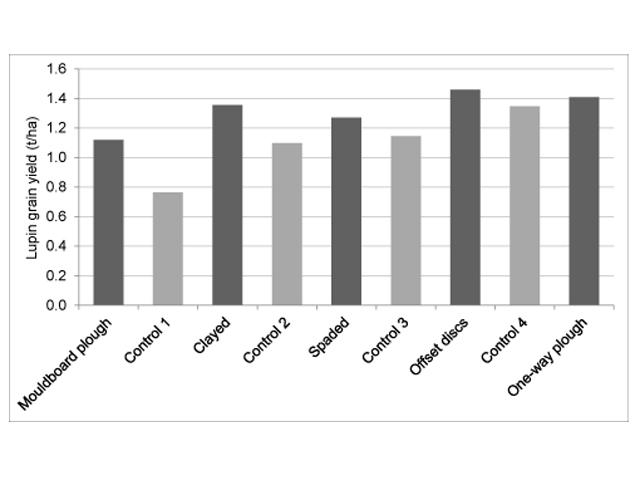 Lupin grain yield increased for all treatment plots except one-way ploughing in 2014 (Table 2).
The largest yield increases were achieved by mouldboard ploughing and claying.
The impact of rotary spading seems to be declining although it was one of the better performers in previous years.
Similarly, the impact of the offset discs has been variable over the years and its impact may dissipate quicker than the deeper cultivation methods.
Table 2 Soil amelioration treatment impact on grain yield, net four year benefit and four year return on investment (ROI) for Mace wheat (grain value $280/t for 2011 and $300/t for 2013) and Tanjil lupin ($300/t for 2012 and $320/ha for 2014) grown on pale deep water repellent sand at Badgingarra. Estimated treatment costs were: $120/ha for mouldboard ploughing; $400/ha for clay speading; $150/ha for rotary spading; $30/ha for offset discs and one-way ploughing.

| Treatment | Change in grain yield (t/ha) | Change in grain yield (t/ha) | Change in grain yield (t/ha) | Change in grain yield (t/ha) | Net four year benefit ($/ha) | Four year ROI |
| --- | --- | --- | --- | --- | --- | --- |
| - | 2011 | 2012 | 2013 | 2014 | - | - |
| Mouldboard ploughing | 0.09 | 1.03 | 0.27 | 0.35 | $410 | 4.4 |
| Claying (100t/ha) | 0.37 | 1.12 | 0.40 | 0.43 | $303 | 1.8 |
| Rotary spading | 0.46 | 1.17 | 0.41 | 0.15 | $500 | 4.3 |
| Offset discs | 0.10 | 0.32 | -0.01 | 0.21 | $162 | 6.4 |
| One-way ploughing | -0.23 | 0.38 | 0.18 | 0.06 | $96 | 4.2 |
The net four year benefit and return on investment (ROI) has been determined for the first four years of the trial (Table 2).
Estimated costs for the amelioration treatments are based on owner-operated and contract rates. Benefits associated with some of the treatments, such as weed control for the mouldboard ploughing and reduced wind erosion for the clay spreading treatment, have not been included.
Because of the lupin yield response in 2014 and the relatively low cost, the offset disc treatment has the best return on investment while spading, mouldboard ploughing and one-way ploughing are all similar at this stage.
Overall, the net benefit is highest for spading, mouldboard ploughing and claying.  The high cost of claying has resulted in it having the lowest return on investment so far.
Clay spreading also had impressive yield gains and substantial increases in income (Table 2) but the high cost of this treatment reduced the four year net benefit and return on investment relative to the deep cultivation treatments.
Given that clay spreading can show benefits for decades, net benefit and ROI for this treatment should continue to improve over time and it still only took two years to cover the cost of the treatment.
Comments
Although claying is the costliest of the amelioration options it has shown the most consistent establishment and the soil surface is firm and stable reducing the risk of wind erosion. This may allow greater feed utilisation in a mixed enterprise system.
Monitoring will continue to see if claying treatment starts to out-perform the cultivation treatments.
Acknowledgements
This trial is part of the Department of Agriculture and Food, Western Australia and Grains Research and Development Corporation funded project DAW00204 Delivering agronomic strategies for water repellent soils in Western Australia.