Cross-pollination for good fruit set?
In the normal sequence of events, the avocado tree will produce large numbers of flowers with some beginning their opening sequence every day. Because a single flower takes two days to complete its cycle, on any one day some flowers will be opening as female and others as male, just at different times of the day.
The stigma of an avocado flower will normally have ceased to be receptive to pollen when it starts to release its own pollen. However, as a result of the mass flowering, you will notice from Figure 3 that under ideal temperatures (maximum 25°C, minimum 20°C) there is theoretically some overlap from other flowers providing a small window of opportunity for what is termed close-pollination. Figure 4 provides real-life example of the cross-over event.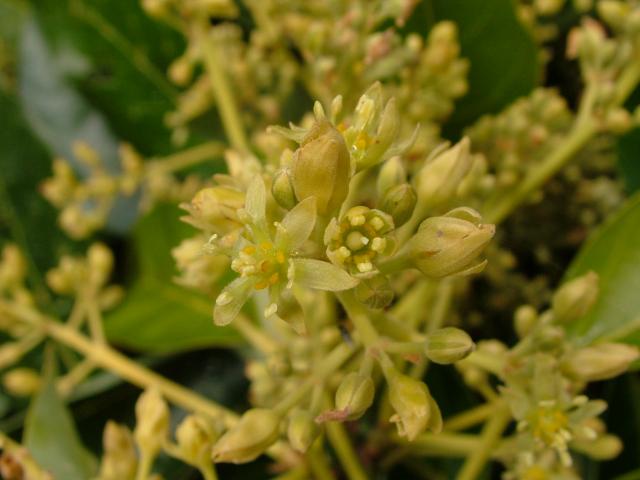 Based on this, many avocado orchards have been planted with Hass only. However, recent research into increasing avocado production per hectare has been highlighting the benefits of increasing the period of potential pollination by inter-planting with complementary varieties, for example, a type B flowering variety in your Hass orchard.
This is particularly the case if you are in colder locations, or using management practices that compress the period of flowering, such as the use of plant growth regulators or 'scoring'.
This is not a case of just selecting a variety with a known complementary flowering type to your main variety. Different varieties not only have either type A or B flowering behaviour, they can also flower at slightly different periods during the year.
While the opening and closing of flowers over the two-day cycle is synchronised, it is also affected by air temperature. Under stable 'ideal' flowering temperatures (maximum 25°C, minimum 20°C), the flowers behave much like the typical pattern shown in Figure 3. But Under cooler conditions (maximum 20°C, minimum 10°C), flower opening can be both delayed and extended, as shown in Figure 5.
Under even colder conditions, type B flowers may be delayed so much that the female stage may not be detected, with the flower appearing to open only as a functional male.
Also, the male phase of type A flowers may be so delayed that they remain open over-night and into the next morning.
The temperature effect on flower opening is not necessarily equal on all varieties. Temperatures in the South-West are frequently well below ideal. As a result of  differences for each variety and the importance of achieving complementary flowering between your main variety (most commonly Hass) and chosen polliniser, it is beneficial to monitor the flowering patterns of a range of varieties to determine the best fit under your conditions.