For growers who retain high stubble loads and are considering N fertiliser strategies, the next question is:
How do I avoid nitrogen tie up if it may lead to nitrogen deficiency in my crop?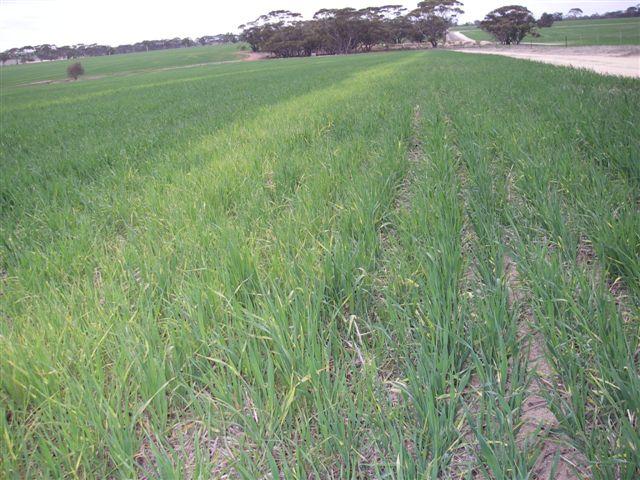 Banding N at seeding could potentially decrease immobilisation by physically separating the N from the C residues in order to slow turnover rates and ensure that the majority of fertiliser applied N is plant-available during crop establishment. Increasing fertiliser rates and split applications could be considered options to maintain sufficient N for crop requirements, particularly in high rainfall areas where yield potential (and subsequently N demand) are likely to be high.
Quantity, quality and handling of stubble also influence N supply. For example, legume residues generally contain more N, and as a consequence require less soil derived N and breakdown more quickly than cereal stubbles. Poor quality cereal stubbles (C:N greater than 80:1) immobilise N during their initial decomposition - largely in the first 8 weeks.
In this case, there is a risk of N deficiency in the crop's early growth stages as microbes will utilise background soil N and any residue N to breakdown organic matter. This is particularly the case when high residue loads are incorporated into soil and the microbial demand for N can quickly outweigh the supply in the soil. This is often visually reflected in the crop through poor early growth or other N deficiency symptoms, but may not be as evident in low disturbance systems where stubble remains on or above the soil surface.
Smaller stubble pieces and greater soil incorporation will potentially result in more rapid but shorter lived immobilisation due to more rapid breakdown of organic matter and release of N.
Knowing the current soil N status, stubble loads, stubble quality and soil moisture content can help you manage fertiliser applications and rates appropriately to ensure adequate N supply to the crop.
Further information on N supply from organic matter can be found in the GRDC publication Managing Soil Organic Matter: A Practical Guide authored by Dr Frances Hoyle of the Department of Agriculture and Food Western Australia. Further information on N deficiency symptoms can be found in the interactive decision support tool MyCrop.
This work is led by the Department of Agriculture and Food Western Australia and is supported by funding from the Australian Government and the Grains Research and Development Corporation.
References
Hoyle FC and Murphy DV (2011); Influence of organic residues and soil incorporation on temporal measures of microbial biomass and plant available nitrogen; Plant and Soil 347; pp. 53-64