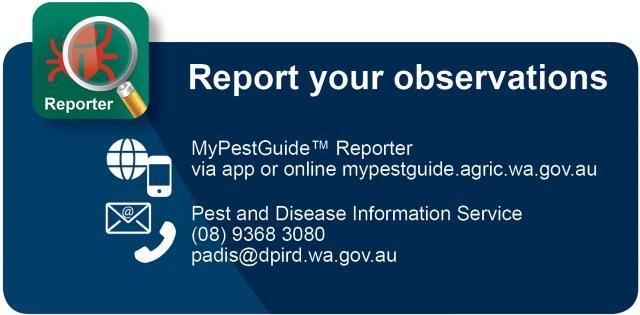 Reporting options
Report any unfamiliar ants immediately – even if unsure. Do not touch ants or disturb the nest as they may aggressively defend it. Do not send in live samples. Take a photo if safe to do so.
Contact the department via:
MyPestGuide website
DPIRD's Pest and Disease Information Service +61 (0)8 9368 3080  
Eradication activities
The Department Of Primary Industries and Regional Development detected red imported fire ant (Solenopsis invicta) at two adjoining businesses at Fremantle Ports in November 2019.
A small number of nest entry points (six) in close proximity were found as part of routine surveillance. Department officers have moved quickly to treat the infestation and destroy the ants.
The department is also undertaking surveillance of the port and surrounding areas to determine any spread of the pest. So far, no more nests have been found.
Quarantine area established
To support response efforts and prevent any potential spread of the pest, a Quarantine Area Notice (QAN) been put in place for parts of Fremantle.
The QAN introduces restrictions on moving some items to areas outside of the quarantine area.
It applies to items that could potentially spread red imported fire ant. This includes a range of items including soil, potted plants, mulch, hay, manure and turf outside of this area, as well as machinery or equipment used in digging, earthmoving or disturbing of soil. Restrictions also apply to shipping containers. See below for more information.
Quarantine area information for residents
The below restrictions apply only to items used for domestic purposes. 
Potted plants can be moved if re-potted with commercial soil from a sealed package, and moved within 2 days of re-potting.
Potted plants can be moved if chemically treated.
Turf can be moved if treated with cover spray.
Some other affected items can be moved if heat treated or fumigated.
Refer to the Quarantine Area Notice for chemical and heat treatment options, associated movement periods and safety advice. Chemicals should be used as per label instructions or APVMA permit.
Restrictions DO NOT apply to items that have been in the quarantine area for less than five days
Quarantine area information for business
The Department will assist businesses to ensure the below movement restrictions have minimal impact on business operations. The below apply only to items used for commercial purposes. 
Affected items may be moved if approved by DPIRD.
Shipping containers may be moved if they are free from any RIFA host material or RIFA nest material. This will require businesses to undertake a visual check.
Contact DPIRD's Pest and Disease Information Service on 9368 3080 for movement authorisation or more information on the movement of shipping containers.
Restrictions DO NOT apply to items that have been in the quarantine area for less than five days
Items subject to quarantine area movement restrictions
Potted plants
Plant mulch, bark and wood chips
Hay and straw
Manure
Soil (including soil attached to non-potted plants, potting mix, and any form of manufactured potting media, pebbles and gravel)
Grass and turf (including grass sod with soil attached)
Soil, turf, grass or other organic matter that has or appears to have been part of a nest or mound built by RIFA
Any machinery or equipment used in digging, earthmoving or disturbing of soil
Shipping containers
How to identify Red Imported Fire Ant
Images
Red imported fire ant (RIFA), Solenopsis invicta, is one of the most serious and invasive ant pests in the world, because of its harmful effects on people, agriculture, flora and fauna, infrastructure and recreational activities.
Below is information on what to look for. This identification video (courtesy of the National Red Imported Fire Ant Eradication Program) may be useful if you are looking for nests or observing ants.  Although please keep in mind any RIFA nests in WA will look different to nests in Queensland due to our sandy soils.
What to look for
Hard to distinguish from common native ants.
2-8mm, reddish brown in colour with a darker abdomen.
Ants of varying sizes in one nest.
Nests that often have no visible entry holes like other ant nests.
Young nests can be indistinct or start out as small piles of excavated soil.
A fiery sting that can blister and form pustules at the sting site.
Where to look
RIFA nests may be found next to or under other objects on the ground, such as timber, logs, rocks, pavers or bricks. Look near pots or any areas of disturbed ground as well as:
pot plants on the ground
stores of topsoil, mulch and potting mixes
open areas like lawns, firebreaks or fence lines.
under landscape materials (e.g. logs, stones)
under timber or pallets on the ground
adjacent to buildings and other structures
untidy or overgrown areas
near areas of permanent water (e.g. the banks of dams, rivers, ponds, aquaculture containers)
tufts of grass in open areas, where the soil is built up around the tufts.