Our role in the Ord River Irrigation Expansion Stage 2
We played an important role in the Ord River Irrigation Expansion Stage 2, now known as the Goomig Farmlands, in Western Australia's Kimberley region. Starting in 2010, extensive soil, groundwater and surface water investigations were done to determine areas suitable to release for agricultural development. Our development role finished in 2013 and moved to a support role for the state government and the Kimberley Agricultural Investments (KAI) developers.
These investigations and subsequent assessment results guided management decisions underpinning the area's longer term commercial and environmental development for irrigated agriculture.
We supported further expansion of agriculture by also investigating other new areas in the East and West Kimberley regions.
What we did to assess suitability for irrigated agriculture
In 2010, we began water and soil risk assessments and modelling of more than 8000 hectares (ha) of the Ord River Irrigation Expansion Area, Stage 2.
The work, funded through the Western Australian Govenment's LandCorp organisation, was a response to the expansion project needing to comply with the Environmental Protection Authority and the Environment Protection and Biodiversity Conservation Act 1999.
We investigated soil and water resources necessary to identify areas suitable for irrigated agriculture and how these areas could be developed without adversely affecting soil, water and environmental resources.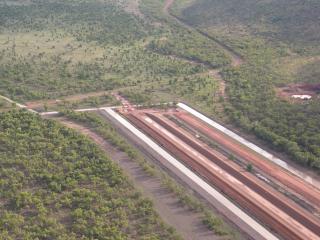 What we found
Of the 8000ha, 7400ha were assessed as suitable for agricultural development. As a result of the work, environmental approvals were granted to develop the 7400ha Goomig Farmlands.
We recommended improved management systems to reduce potential land degradation risks, and more-efficient farmland designs. This work also resulted in about $30 million of savings in capital works and similar savings in long-term groundwater management and monitoring.
The assessment recommended removing 760ha of land at high risk of degradation from the total considered for release and recommended delaying the release of 400ha of land assessed to be at moderate risk.
A further 1600ha, which was defined at some risk in the long term, was recommended for lease only because of potential land degradation impacts and possible costs incurred in the future.
Results from this work
The results of theassessments underpinned an announcement by the Western Australian Government in 2012 to release 13 400ha for irrigated farmland, under the Ord−East Kimberley Expansion Project. The government also announced the preferred proponent (KAI) to lease the Goomig Farmlands and Knox Plain. Approval for the release of agricultural land on the Knox PLain was granted to KAI after environmental assessment in 2015.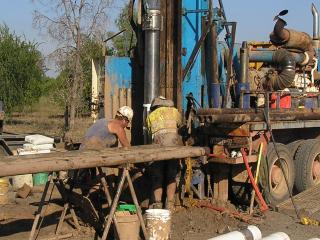 By the end of the 2013 investigation phase, our staff completed 500 days of field work and 1000 days of analysis, which are detailed in technical reports and management plans:
These technical reports were used to underpin management plans prepared by KAI and other agricultural and aquacultural developers for the Keep River and Knox Plains areas.
New development to expand irrigated agriculture
We supported development of the region's agricultural industries through research and crop trials, including identifying rice varieties most suited to WA conditions, and trialling quinoa, sugar, cotton and other grain crops.
The value of the Ord Stage 2 work led to Royalties for Regions funding for similar planning to support assessment of 8000ha of nearby Cockatoo Sands (Ord River Irrigation Expansion Stage 3) at two locations near Kununurra as part of a broader project on sand-based agriculture in the La Grange area, West Kimberley.
Other projects near Kununurra, such as part 3 of the Cockatoo Sands project — Bonaparte Plains, Keep River, Mantinea Flat and Carlton Plains — are underway or proposed to expand the area of irrigated agriculture beyond 50 000ha.
Work to expand the Carnarvon horticultural area by 400ha started as part of the Gascoyne Foodbowl Project.