Pasture potential
Acacia mixed shrub pastures have low pasture value and carrying capacity, but some of the shrubs and the annuals that they support provide high quality forage in season. In good condition, they are capable of supporting all classes of stock all year at low stocking rates. However, they have only limited durability in dry years and desirable shrubs are susceptible to preferential overgrazing.
Suggested levels of use (per annum)
Good condition: 120 hectares per cattle unit (ha/cu).
Fair condition: 145 ha/cu.
Poor condition: 170 ha/cu.
Managing acacia mixed shrub pastures in the Pilbara
Grazing
Acacia mixed shrub pastures in good or fair condition can be grazed continuously provided stocking rates are low enough. An option is relatively heavy, short-term grazing of the annual grasses and herbs in good seasons, and provided the period of grazing is restricted, no damage will occur to desirable shrubs.
In dry years, desirable shrubs are prone to preferential overgrazing and numbers may decline. Remove stock when indicator plants show overgrazing.
Pastures in poor condition will require complete spelling over 1 or more growing seasons to increase the number and vigour of desirable shrubs.
Fire
As a general principle, fires should be excluded.
Pasture condition
Traverse data (319 observations) during the Pilbara rangeland survey 1995–97 recorded:
Pasture condition:  very good 9%, good 27%, fair 41%, poor 21%, very poor 2%.
Soil erosion:  nil 93%, slight 2%, minor 3%, moderate 2%.
These data show that acacia mixed shrub pastures in the Pilbara are mostly in fair or good condition with minimal loss of desirable shrubs. Some parts are degraded to poor condition (23% of traverse records) with considerable loss of desirable low shrubs. Soil erosion is generally not significant, largely because stony surface mantles provide protection.
Very good – good condition
In good condition (Figure 1), these pastures support a range of desirable low shrubs, but at relatively low densities, mixed with unpalatable species (stability desirables) which are a normal component of the vegetation. Desirable shrubs include bluebushes (Maireana spp.), warty fuchsia bush (Eremophila latrobei) and tall sida (Sida calyxhymenia). There is no erosion.
Fair condition
Acacia mixed shrub pasture in fair condition (Figure 2) still has some palatable desirable species, but populations are below potential and individual plants such as warty fuchsia bush (Eremophila latrobei) and tall saltbush (Rhagodia eremaea) may be heavily utilised. Unpalatable shrubs increase their proportion in the stand but total foliar cover is little changed from good condition.
Poor – very poor condition
When this pasture type is in poor condition (Figure 3), palatable desirable plants are absent or occur only as occasional isolated remnants. On some sites, particularly those based on calcrete, undesirable plants such as crinkled cassia and desert cassia (Senna artemisioides subsp. helmsii and S. artemisioides subsp. filifolia) may thicken, but more commonly there is no change in total foliar cover. The stand then consists of very scattered unpalatable plants of no indicator value.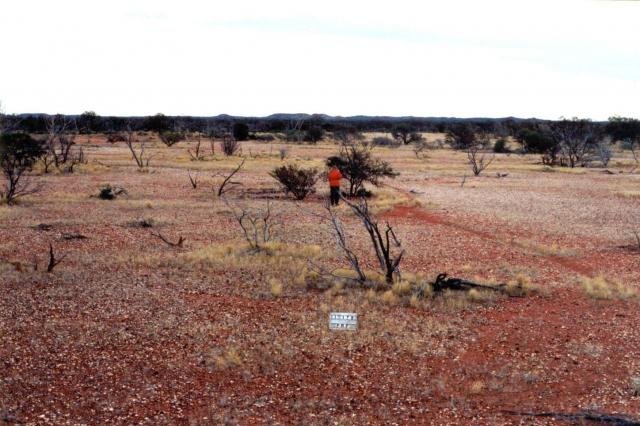 Vegetation structure and composition
The pasture type is typically a very scattered to scattered low shrubland with sparse mid height and tall shrubs (total PFC 5–15%).  Occasionally the mid or tall shrub layers may dominate, but this is not usual. On some sites, notably those on calcrete such as in Warri land system, the total foliar cover of shrubs can reach 25%.
The dominant low shrubs are invariably poverty bushes (Eremophila spp.) and/or cassias (Senna spp.). Cotton bush (Ptilotus obovatus) and flannel bush (Solanum lasiophyllum) are also common. The taller shrubs are most commonly mulga (Acacias aneura), curara (Acacia tetragonophylla), prickly acacia (Acacia victoriae) and miniritchie (Acacia grasbyi).
A very few perennial grasses may be present and become rather more frequent on sandier sites. Numerous annual grasses, such as wind grass (Aristida contorta) and limestone grass (Enneapogon spp.) and herbs occur in season.
Occurrence
This pasture type is widespread in southern parts of the Pilbara as acacia – poverty bush – cassia (Acacia – Eremophila – Senna) shrublands on level to gently undulating stony plains, low rises and footslopes of land systems such Balfour, Charley, Laterite, Prairie, Robertson, Sylvania and Warri.
Soils are stony, shallow loams and earths (sometimes calcareous) and red-brown clays with many to very abundant (20to more than 90%) surface mantles of ironstone, basalt, quartz, shale or calcrete pebbles and cobbles. Less frequently, soils are red shallow sands, such as on parts of the Sylvania land system, and surface mantles are absent or present as veneers of quartz grit.
Associated plants
Other resources
van Vreeswyk, AM, Leighton, KA, Payne, AL, & Hennig, P 2004, An inventory and condition survey of the Pilbara region, Western Australia, Department of Agriculture and Food, Western Australia, Perth. Technical Bulletin 92.