Released on:
Thursday, 2 March 2023 - 1:00pm
The Department of Primary Industries and Regional Development (DPIRD) is working to prevent the spread of Queensland fruit fly (Qfly), after the invasive pest was detected in Bayswater.
The Qfly were detected in surveillance traps, as part of the department's early warning biosecurity system.
Qfly is a serious horticulture pest, which – with more than 300 species of fruit and vegetable host plants – could impact a range of horticulture industries and home grown fruit and vegetables.
DPIRD Chief Plant Biosecurity Officer Sonya Broughton said department staff were trapping, inspecting and baiting host plants on nearby street trees and verges near the Qfly detection.
"The department's ongoing, widespread Qfly surveillance program has proven to be an effective means of early detection," Dr Broughton said.
"Our staff have experience in responding effectively to Qfly detections, having eradicated incursions from Perth eight times since the 1980s, most recently in Dalkeith, Claremont and Nedlands in 2020 and Coolbellup in 2021 thanks to the cooperation of local communities."
More information on Qfly and the biosecurity response updates can be found on the department's website as the response progresses.
Dr Broughton asked residents and businesses to support the response efforts and report suspect Qfly sightings to the department.
"It is important DPIRD officers can access private premises with host trees and plants to conduct trapping, inspections and baiting," she said.
"Residents will receive a card in their letterboxes asking that they contact the department to discuss appropriate access to carry out these activities.
"The community plays an important role in the biosecurity response, reporting suspect sightings to aid the department's surveillance program."
Qfly are six to eight millimetres long, distinguished by a red-brownish torso with yellow patches, a dark brown abdomen and clear wings.
Reports of suspected Qfly can be made to DPIRD's Pest and Disease Information Service on 9368 3080, email padis@dpird.wa.gov.au [1] or via the MyPestGuide Reporter app. [2]
A full list of host fruit and vegetables and more Qfly advice is available here [3].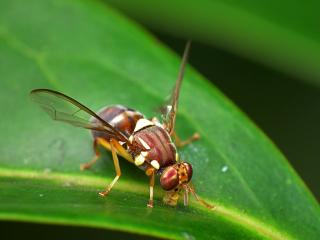 [4]
Media contacts:
Megan Broad/Katrina Bowers, media liaison                        
+61 (0)8 9368 3937