Released on:
Tuesday, 20 September 2022 - 10:30am
Spring has sprung and Western Australian gardeners have been urged to watch for signs of the tree pest polyphagous shot hole borer (PSHB) and report any suspect observations to the Department of Primary Industries and Regional Development (DPIRD).
The department is currently engaged in a biosecurity response to stop the spread of the tiny exotic pest, which impacts a wide range of host trees.
DPIRD Chief Plant Biosecurity Officer Sonya Broughton said borer activity was likely to increase as the weather warmed up, making signs of the pest more visible.
Dr Broughton said the public played an important role in a biosecurity response, providing front line intelligence to support DPIRD surveillance.
"I urge gardeners to check trees and plants for any unusual signs, like multiple entrance holes in the trunk or branches about the size of a ballpoint pen tip, frass or sawdust and crystalline foam or sugar volcanoes coming from the entry holes," she said.
"Other signs to look out for are thick resin or sap on the tree branches or trunk, staining of the wood around entrance holes, dying branches and tree death.
"It is important to report any observations via the MyPestGuide Reporter app or to the department's Pest and Disease Information Service to help inform the response actions."
For the past year DPIRD has been working with local plant industries, councils, government agencies and the community, as part of a nationally coordinated response.
A Quarantine Area for PSHB remains in place covering 21 local government areas in the Perth metropolitan area – covering 623 square kilometres – restricting the movement of any wood or green waste material that could host the borer.
"DPIRD continues to undertake surveillance in the Quarantine Area and beyond in parks and other public areas, street trees, trees on private residences and business properties to determine the spread of the pest," Dr Broughton said.
"This has included deploying more than 2,800 PSHB traps in the Perth metropolitan area, as well as in the State's Mid West, Wheatbelt, South West and Great Southern.
"In the past 12 months – DPIRD's biggest surveillance program in history – staff have inspected more than one million trees on over 25,000 properties, clocking up at least 300,000 kilometres between them."
Dr Broughton thanked the community, businesses and local governments in the Quarantine Area for their support and vigilance during the past 12 months and called on all parties to continue their efforts.
"The success of the surveillance program has been the combined result of the efforts of all parties, alongside the hard work of department officers," she said.
"It is important we all continue to work together and monitor trees and shrubs for any signs of PSHB damage and report any observations to DPIRD to contain the spread of this pest and minimise its impact on Western Australia's trees."
Suspect borer damage should be reported to DPIRD's Pest and Disease Information Service on (08) 9368 3080, email padis@dpird.wa.gov.au [1] or via its MyPestGuide Reporter app.
For more information on PSHB click here [2].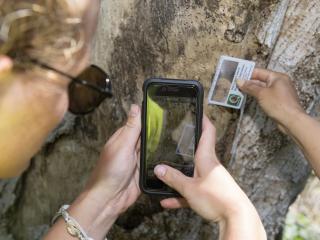 [3]
Media contacts:
Megan Broad/Katrina Bowers, media liaison                        
+61 (0)8 9368 3937