Released on:
Thursday, 12 May 2022 - 11:45am
The Department of Primary Industries and Regional Development (DPIRD) has paid tribute to the work and contribution of the 'Father of the Pink Lady® apple', former apple breeder John Cripps AO.
Mr Cripps, who worked for the department for more than 40 years, led the team that developed the iconic Cripps Pink variety, known as Pink Lady® – one of the world's most popular apples.
He was also behind the development of the Cripps Red variety, known as Sundowner®, which is a parent of the more recently released deep burgundy variety ANABP 01, marketed as Bravo® apples.
The Cripps varieties were bred at the department's former Stoneville Research Station, although the original trees have been relocated to its Manjimup Research Station – home to Australia's National Apple Breeding Program.
DPIRD Director General Terry Hill said Pink Lady® apples put Western Australian apples on the international stage, which are now in high demand around the globe.
"The Pink Lady® still stands tall as a premium eating apple, with its striking colour firm juicy flesh and good sugar-acid balance, making it the perfect fruit for any occasion," Mr Hill said.
"Together with the Sundowner®, which is slightly more tart and known for its great storage characteristics, and Bravo®,  the Cripps varieties transformed the Australian apple breeding and the apple marketing landscape."
The Pink Lady® also pioneered the marketing of premium quality fruit, being amongst the first fresh produce in the world to be trademarked, requiring apples to meet strict quality standards to bear the variety's label.
"WA's apple growers have reaped the benefits of the Cripps varieties, which were bred specifically for WA conditions, producing high performance trees with desirable yields," Mr Hill said.
"These varieties now form the basis of the National Apple Breeding Program, which continues to use natural breeding techniques to develop new, exciting and tasty apples for consumers to enjoy."
Mr Cripps was awarded an Officer of the Order of Australia in 2015 for 'distinguished service to primary industry through internationally renowned, innovative contributions to the agriculture and food sectors, and to the community.'
Mr Hill, who worked with Mr Cripps for several years, remembered him as a quiet and thoughtful, highly intelligent, hard working person, whose passion for apple breeding was unbridled.  
"John was a great mentor to many department officers and leaves behind a legacy that will endure for years to come, as new apples from the Cripps varieties are developed," he said.
"With the apple harvest getting underway, it is fitting to remember John and how these remarkable apples have become an indelible part of WA agricultural history."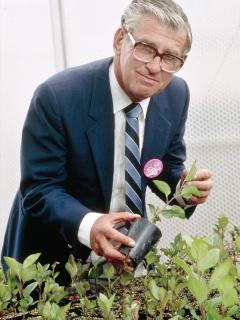 [1]
[2]
Media contacts:
Megan Broad/Katrina Bowers, media liaison                        
+61 (0)8 9368 3937