Released on:
Thursday, 13 August 2020 - 9:00am
The Department of Primary Industries and Regional Development's browsing ant surveillance team will be inspecting sites in the Kimberley from 18-25 August.
The team will travel from Perth to Wyndham and Kununurra and visit mining, tourism, transport, recycling and green waste businesses, which are considered most at-risk from the exotic invasive pest.
Any suspicious ants found in and around these locations will be collected and sent to entomologists at DPIRD's Perth laboratories for identification.
DPIRD Biosecurity Executive Director Mia Carbon said browsing ants were not established in Australia but thrived in Mediterranean climates similar to their native southern European home.
"Browsing ants would likely become a significant horticultural, environmental and community pest if allowed to establish in Western Australia," Dr Carbon said.
"The support and cooperation of local businesses is crucial to stopping their progress through early detection.
"DPIRD's surveillance team will also be working closely with the department's Kununurra office to gain valuable local information."
Browsing ants are a slender, shiny, dark brown ant measuring about 3-4mm in length and do not have a strong 'ant smell' when crushed.
They are aggressive, often seen in large numbers and run in a haphazard manner when disturbed.
Browsing ants form multi-queened super-colonies and monopolise food resources, quickly reaching very high populations and displacing native ant species and other invertebrates.
The surveillance team will be contacting Wyndham and Kununurra locations prior to the trip to inform them of the inspections and receive any specialised site induction information.
The team recently completed surveying the Kalgoorlie/Coolgardie area in early August 2020.
Report any unfamiliar ants immediately – even if unsure. Take a clear photo and contact DPIRD via MyPestGuide™ Reporter at mypestguide.agric.wa.gov.au or the Pest and Disease Information Service on (08) 9368 3080 or padis@dpird.wa.gov.au [1].
Alternatively, households or businesses with suspected browsing ant sightings can submit samples by:
brushing ants into a sealed container or zip lock bag and placing it in the freezer for an hour
labelling the container with collection location (e.g. backyard, fenceline, road verge etc.), name, contact number, email address and postal address
hand-delivering or posting to Browsing Ant, Department of Primary Industries and Regional Development 3 Baron-Hay Court, South Perth WA 6151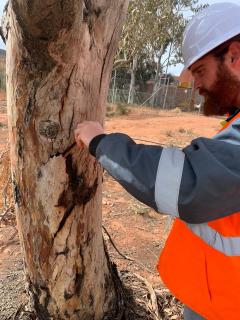 [2]
Media contacts:
Megan Broad/Jodie Thomson, media liaison            
+61 (0)8 9368 3937