Register here

[1]

to join the TREEmendous Biosecurity Blitz!
Welcome to the TREEmendous Biosecurity Blitz! Whether you work in forestry or horticulture, like to bushwalk, have trees in your backyard, in the local park or on your street, you can help protect our trees into the future by checking them for pests and diseases and reporting any you find during the Blitz.
This year the TREEmendous Biosecurity Blitz runs from 24 September to 24 October 2022 – that's 30 days to look for, take a photo and send in a report of every tree pest and disease in your neighbourhood!
Every report helps!
Every report you make helps to:
increase the likelihood that serious pests and diseases will be detected early, giving us a better chance to eradicate or contain them
prove that WA is free from serious pests and diseases, which protects our State's export trade.
How do I take part in the Blitz?
To participate:
Register using this link

[1]

.
Download the free MyPestGuide® Reporter app. 

[2]

Check trees in your backyard or street, in the local park or nearby bushland for pests.
Take photos of any pests or disease signs you find (see the MyPestGuide® Reporter instructions

[3]

for more details).
Report using the app or online at mypestguide.agric.wa.gov.au

[4]

. Select the Biosecurity Blitz project to make your report.
What happens once I register?
Weekly emails: When you join the TREEmendous Biosecurity Blitz, you will receive a weekly email with useful pest identification and tree health tips, information on serious tree pests, activities, and invitations to webinars and workshops during the Blitz period.
Invitations to webinars and workshops: During the Blitz, DPIRD is hosting a webinar and three community workshops - one in Bunbury and two in Kings Park, Perth. Expert speakers at these events will highlight 10 priority pests likely to impact WA's trees, and provide resources to help participants spot pests and diseases, and report them using the MyPestGuide® Reporter app.
When you make a report: DPIRD experts will triage the report and respond to you.
Missed attending our webinar or one of our workshops?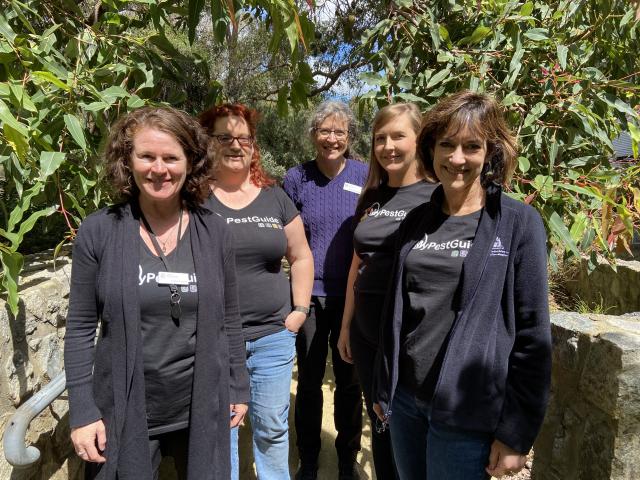 [5]
If you missed attending our Biosecurity Blitz webinar or workshops, check out these resources to help spot potential priority pest and diseases in your trees.
Reporting is easy!
Grab a mobile phone or camera and look in your backyard, street, local park or bushland for tree pests and diseases and report your findings to DPIRD using the MyPestGuide® Reporter [2] app or the online portal [4].
A DPIRD expert will respond to every report made. Individual reports can be viewed by the shared community. All personal information is kept confidential.
MyPestGuide® Reporter [2] helps users to report a wide range of organisms to DPIRD together with a GPS location, descriptive text and up to four photos. Users can choose to share and view their reported observations on the community map [17].
Don't have a smartphone? No worries!
Use the MyPestGuide® Reporter online portal [4] to create and send in your reports through your internet browser, as well as view the shared discoveries reported by the MyPestGuide® surveillance community. You can drag and drop .jpg files (up to 5MB) from your camera to the online portal to make a report.