---
Diagnosing barley loose smut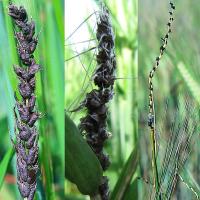 What to look for
Paddock

Scattered plants with black heads or bare flower stalks.
Plant

Infected plants may be slightly taller and earlier maturing than surrounding healthy plants.
At heading florets are replaced with a compact mass of dark brown-black powdery spores.
Bare stalks remain once fungal spores have blown away.
Where did it come from?
Contaminated seed
Wet or humid conditions
The disease is carried as a small colony of fungus in the seed. This infects the growing point of the barley seedling following germination.
Loose smut is not carried in soil or contaminated machinery.
Infection is favoured by rainfall and high humidity during flowering.
Management strategies
Seed dressing fungicide
Do not sow seed with high levels of loose smut.
Fungicidal seed dressing controls loose smut.
Use clean seed if contamination is found.
---