Identification
The leafhopper's Indonesian name is 'wereng daun' and they belong to the insect family Cicadellidae.
Leafhoppers are small, winged, fast-moving and highly mobile insects that suck sap from potato leaves.
Adults are wedge-shaped and about 3mm long. They can be yellow, green or brown.
Leafhoppers infest the upper part of the potato canopy. They feed on upper leaf surfaces by sucking sap which causes a yellow mottle.
Eggs are usually laid within plant tissue so are not seen.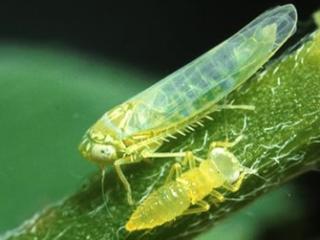 After hatching from eggs, nymphs are pale but turn darker as they feed. The immature nymph stage of leafhopper is the same shape as adults but wingless and smaller.
Management
Leafhoppers feed on a wide variety of plants and may be present in vegetation adjacent to the area where potatoes are planted. Removal of such plants will reduce the chance of potato crops being infested.
Leafhoppers or signs of their feeding should be checked for during weekly monitoring of potato crops.
Leafhoppers have few natural enemies. They are not likely to cause damage, but can invade crops quickly.
Large numbers must be present before they affect crop vigour and reduce yield. Heavy infestations may cause leaves to turn brown.
If mottling is present on more than 25% of plants and some leaves are wilting or turning brown, an insecticide may be required.
Some species transmit the disease purple top wilt in potato crops.
Acknowledgment
Funding for this work to support Indonesian potato farmers and WA seed potato exports was provided by the Australian Centre for International Agricultural Research (ACIAR) and the Department of Primary Industries and Regional Development, Western Australia.