Spread and distribution
BMSB is native to eastern Asia (China, Japan and Taiwan) but was introduced to North America in the mid-1990s and more recently to Europe, where it is rapidly becoming a serious pest. 
BMSB opportunistically uses cargo containers and freight vehicles to hitchhike across continents and oceans, and in recent years, due to its spread overseas, there have been increasing detections in Australia. 
It has the ability to survive in cargo for long periods by remaining in a dormant state. Additionally, its ability to fly and feed on a wide range of plant hosts enables it to spread rapidly when it is introduced to new areas.
BMSB are more frequently found on goods arriving in Australia between September and April, coinciding with late autumn and winter in the northern hemisphere.
If brown marmorated stink bugs were present in Australia, we could expect it to typically find shelter from April, and emerge again from late September.
Description
BMSB can be confused with a number of other brown coloured stinkbugs that are present in Australia, except they are larger and have distinctive markings.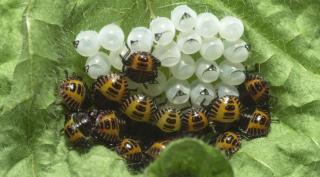 12–17mm long.

Mottle brown coloured.

Shield shaped.

Distinctive black and white banding around the outer edge of the abdomen.

White bands on its antennae. 

Five nymph stages that range from less than 3mm to 12mm long.

Young nymphs have a dark head with an orange abdomen, and red with black stripes around the outer edges and down the centre.

Older nymphs are similar to the adult, but darker, with some small lateral spines around the front edge of the body, and banding on the legs and antennae beginning to appear.

Eggs are laid in clusters of 25 to 30 on the underside of leaves.

Eggs are light green to white in colour, and barrel-shaped.
What to look for
Look for unusual aggregations of stink bugs in or on buildings when the weather cools down.

They are attracted to light, and may be found in areas that are well lit at night.

Visually inspect host plants, particularly underside of leaves. 

They emit a foul odour when disturbed.