May 2018 - outbreak
Location: Como
Status: Eradication program underway - baiting concluded, Quarantine Area remains until November 2018.
The Department of Primary Industries and Regional Development detected a number of male Queensland fruit fly (Qfly) in the Perth suburb of Como during May 2018. The Qfly were detected in a residential area, and there continues to be no recent detections in any commercial fruit or vegetable production areas.
We still need your help
A Quarantine Area came into effect on 5 May 2018, and was extended on 19 May 2018. It includes all or parts of Como, Bentley, South Perth, Karawara and Kensington (see map).
There have been no further Qfly detections since May 2018, and baiting of properties close to the detections concluded on 18 August 2018.
However, it is critical that residents in Como and surrounding suburbs continue to comply with the Quarantine Area restrictions, which will remain in place until at least November 2018.
This applies to City of South Perth residents about to undergo a green waste collection. Strip all fruit and vegetables from green waste prior to collection, and dispose of according to guidelines.
Despite the cold weather, with not many flies around, Qfly is known to over-winter in fruit and trees such as citrus, loquats and apples.
Quarantine Area restrictions
Home-grown fruit and vegetables cannot be moved out of the Quarantine Area, and must be disposed of according to strict guidelines.
Nobody wants Qfly in Western Australia. To eradicate this pest we need the participation and support of residents and businesses within the Quarantine Area as we carry out our response activities.
The department is exploring all avenues to remove pathways through which Qfly can spread to other areas. This includes:
Community gardens and public property where fruit trees are located. If within the Quarantine Area, the same rules apply to fruit and vegetables grown on these properties.
Online trading of fruit. Many properties have an excess of citrus at this time of year. The department is appealing to sellers located within the Quarantine Area to remove their advertisements until further notice.
Home gardeners and gardening contractors must ensure that greenwaste is not disposed of before being stripped of fruit and vegetables. This includes greenwaste put out for verge collection. Fruit and vegetables must then be disposed of according to disposal guidelines.
If you suspect fruit fly in your garden call the department via the reporting options below.
Eradication program
As part of the eradication program, DPIRD has established three zones (see map). Different restrictions apply to each zone.
An Outbreak Zone around a 200m radius of the detection point (baiting concluded 18 August 2018, surveillance ongoing).
A Quarantine Area around a 1.5km radius of the detection point (movement and disposal restrictions on home-grown fruit and vegetables will remain in place until at least November 2018).
A Suspension Area around a 15km radius of the detection point (host fruit cannot be exported from within this area without treatment or other approved protocol).
Western Australia's Area Freedom from Qfly, which underpins market access for a range of produce, remains in place for the remainder of WA.
Under the Biosecurity and Agriculture Management Regulations 2013, failure to comply with movement restrictions can result in fines. We are appealing to residents to do the right thing in supporting WA's horticultural industries.
Residents in the Quarantine Area will be notified when the response program concludes.
Disposal guidelines
The Quarantine Area Notice stipulates that ripening and fallen fruit must be disposed of every three days. Regular removal of fruit means that fruit fly will be unable to lay eggs and start the breeding cycle. Disposing of fruit and vegetables according to the guidelines below will kill any eggs or larvae.
Where fruit is inaccessible, wait until it has fallen to the ground and then dispose of accordingly. 
Disposal options include:
Eating or cooking (boil or microwave).
Freezing (minimum 24 hours).
Solarising - place in a sealed, heavy-duty black plastic bag which is placed in direct sunlight for three days.
Soaking - place in a bucket or large container of water with a film of white oil for at least seven days.
Burying to a depth of at least 1 metre as Qfly adults can emerge from under the soil surface.
Do not give away any home-grown fruit or vegetables.
Only after boiling, solarising or freezing you can:
Feed it to poultry.
Compost it.
Put in the rubbish.
Making traps and bait at home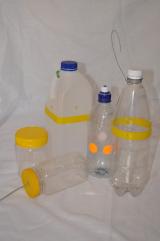 The community can also participate by making a fruit fly trap. Making a trap is an easy and cost effective way of finding out if you have fruit flies on your property. You can also purchase a safe and organic foliar bait mixture to spray on your trees and prevent infestation.
For instructions, refer to the make-a-trap flyer and Medfly management video (also applicable to Qfly).
If you catch any fruit flies in your traps send a photo via our reporting options.
The department is keen to know about other fruit flies in the area, even if you think it might be Medfly, which is endemic in Perth. Qfly can be easily mistaken for Medfly, although Qfly is larger and reddish brown and has clear wings. 
Reporting options
About Qfly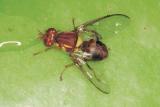 Qfly is regarded to be a more serious pest than the endemic Medfly for a number of reasons including:
Qfly attacks a wider range of commercial and native trees, vine fruits, fruit and solanaceous fruiting vegetables such as eggplant, tomato, capsicum and chili.
Qfly can attack fruits and some fruiting vegetables at an earlier maturity stage.
More insecticide may need to be applied to fruits and vegetables.
Go to the Qfly web page for more information, including description.
Qfly host list
See the Quarantine Area Notice for a full host list.
January 2018 - eradicated
Location: Fremantle and parts of North Fremantle, East Fremantle and White Gum Valley
status: As of 19 April 2018, the Quarantine Area Notice applying to Fremantle and parts of North Fremantle, East Fremantle and White Gum Valley, and the suspension of Qfly Area Freedom within a 15km radius of the detection have been lifted.
outcome: Eradicated
The Department of Primary Industries and Regional Development (DPIRD) and horticultural growers would like to acknowledge and thank everyone who cooperated and assisted in the eradication campaign.
This was very much a community response and containment of this pest would not have been possible without the willing participation of the community. In particular thank you for complying with movement restrictions and accommodating repeated property visits. We apologise for any inconvenience caused.
We would like to thank local businesses, community gardens, markets, local government and other community groups for their support of our eradication activities, and willingness to distribute information to maximise awareness amongst the community.
The department is also grateful for the support of industry, which is always vital to achieving a successful outcome.
Related documentation