Growing
Trees can be irrigated by either reticulation or hand-watering. It is important to supply enough water for the tree's needs and avoid either over-watering or letting the soil dry out too much. Keep the tree free from weeds, pests and diseases. Unless the tree is dormant, feed with a slow release fertiliser at the recommended rates. To train the tree to a desired shape, start shaping it in the first years after planting.
Most deciduous trees are pruned when dormant but summer pruning can be used for removal of unwanted shoots and suckers, reducing height and to allow sunlight penetration. For trees particularly susceptible to bacterial diseases like apricots and cherries more pruning can be done in summer after harvest as an alternative to winter pruning.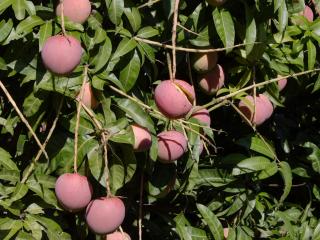 Plants like peaches, nectarines, persimmons, grapes, kiwifruit, blueberries and trailing berries are pruned yearly and plums, apricots, apples and pears are pruned every one to two years. Many fruit trees fruit on one year old wood only (peaches, nectarines, grapes, kiwifruit) and require annual pruning to ensure that new fruiting wood is regenerated.
Every three or four years thin out branches in winter on citrus, figs, nuts, mulberries, feijoas, guavas and tropical fruits.
Most home gardeners train their trees into vase shaped trees or central leader trees. Keeping your fruit trees to a moderate size allows easier picking, pruning and cheaper bird or fruit fly netting.