Traditional flowers or Australian natives?
In most world markets, the majority of sales are traditional flowers — carnations, chrysanthemums and roses. The same applies in Western Australia.
However, as the market matures and consumers buy flowers more actively, they become more interested in flowers from different places. The increase in tulips grown in Australia and sold on the domestic market is testament to this. Similarly, overseas markets are buying Australian natives and South African proteas because they are different and colourful. This demand in the mature markets of Germany, Netherlands and Japan — where traditional flowers make up only 50-55% of purchases — is driving the sales of Australian natives.
In all these markets, foliage is also in demand.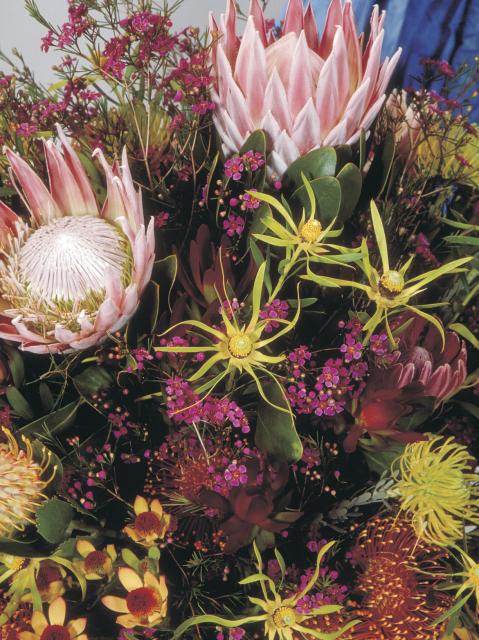 Promoting our flowers and their uses can change consumption patterns.
The Spanish and USA markets are described as immature and sales of traditional cutflowers are significantly greater than other flowers.
Buying times
In immature markets, flower sales are most often associated with Mother's Day, Valentine's Day, Christmas, Easter and other personal occasions such as birthdays, anniversaries, funerals and weddings.
In Western Australia, Mother's Day is the most important day to buy flowers. About 37% of consumers buy all the flowers they purchase in a year at this time.
Valentine's Day and Christmas are the next most important, although nowhere near as many people buy at that time. Days such as ANZAC Day and Father's Day are not particularly important. This partly reflects the limited number of flowers bought for males.
Birthdays are by far the most significant reason for purchasing flowers for special occasions. Other occasions such as funerals, anniversaries, visiting relatives, dinner invitations and get well messages, are not high on the list. This may be partly due to other options, such a bottle of wine for the dinner host.
Although functions like graduation balls are not high on the list, they may provide opportunities for flowers not suited for other markets, for example, short stem roses or carnations for button holes.
In markets such as Japan, the Netherlands and Germany, consumers are more likely to buy for self-consumption and take flowers to family functions or dinners. The Japanese are very particular about this. The gift and its value are carefully calculated. Traditionally, they have purchased very high quality products such as fruit as gifts when visiting or for special occasions, rather than bottles of wine or chocolate.
Frequency of purchases
Only a very small portion ofpurchasers, buy weekly or fortnightly. The majority buy no more than four times a year.
In Western Australia, consumers tend to buy for special occasions and special days such as Mother's Day, birthdays, funerals and Valentine's Day. They tend not to buy for their own use. This suggests that, with improved availability, promotion, presentation and quality, consumers could be convinced to increase total consumption of flowers.