Great Southern producers explore Riesling and Shiraz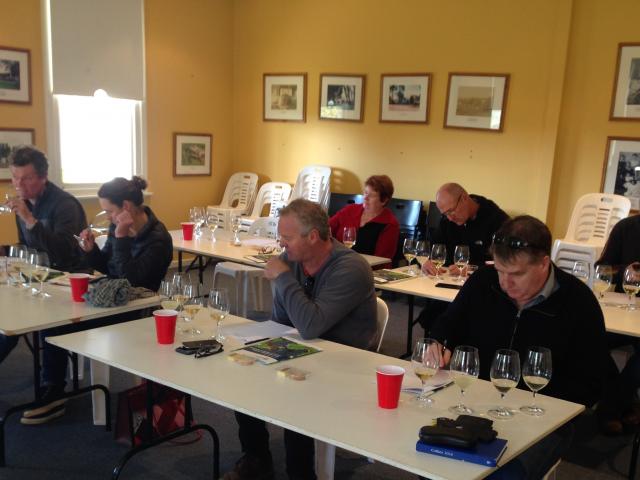 The last of the 2017/18 regional Winemakers' Trial Forums was held in Mt Barker on 27 August.
The Swan Valley and Margaret River events were completed in late 2017, with the Great Southern event delayed due to the availability of the guest winemaker from the Clare Valley. Unfortunately, just days before the tasting the guest winemaker was unable to travel due to illness of a family member.
Department of Primary Industries and Regional Development (DPIRD) Research Officer Richard Fennessy took the role of facilitator and proceeded over the tasting of trial wines involving Great Southern Chardonnay, Riesling and Shiraz.
The objective of the tasting was to examine the key varieties of the region (especially Riesling and Shiraz) and discuss innovative vineyard and winery practices that improve quality and production efficiencies.
Chardonnay
Four clones of Chardonnay grown in Mt Barker produced from the 2017 vintage were tasted blind. These wines were a product of the national project 'Assessing clonal variability in Chardonnay and Shiraz for future climate change'. 
Of the group 71% preferred clone I10V1 and 29% preferred clone 277. The discussion that followed concluded that there are greater variables, such as site, that influence quality but clonal selection is a tool to fine tune quality and style.
Riesling
The wines tasted in the Riesling bracket were examples of tank fermentation (conventional approach) and those that had undergone large format barrel maturation, without the addition of sulphur dioxide.
The group discussion on Riesling winemaking covered less contact, barrel maturation and the management of oxygen.
Opinions on adding complexity to Riesling, branching the style out and how the market responds to this style were examined.
Shiraz
DPIRD Research Officer Richard Fennessy presented three clones of Shiraz which had been sourced from a Great Southern grower earlier in the year.
With 20kg of fruit from each clone, the wines were made in identical fashion to highlight the different attributes of the clones.
No one from the group preferred clone 174 as they found the characters similar to that of the WA Selection clone which is the most widely planted Shiraz clone in WA.
The other two clones, 470 and Waldron both received 50% of the groups preferences as they showed good concentration, depth and an attractive savoury element.
Two producers submitted Shiraz maceration trials, the first being a parcel of Frankland River Shiraz split into two treatments; destemmed and 100% whole bunch fermentation. The differences in aroma, flavour and tannin profile were apparent.
The second trial was a parcel of Porongurup Shiraz split into two treatments; destemmed and 100% carbonic maceration. Again the impact on the aroma and palate was very clear.
After discussing these treatments in length, the group concluded that whole bunch and carbonic maceration were great blending tools to add complexity and depth to Great Southern Shiraz.
This event was funded via the Wine Australia Regional Program.
For more information contact Richard Fennessy, Research Officer on +61 (0)8 9780 6219