Wine Australia 2018 Science and Innovation Award
Department Research Officer Monica Kehoe has been awarded the 2018 Science and Innovation Award for Young People in Agriculture, Fisheries and Forestry in the category sponsored by Wine Australia.
This award provides funding for a one year project, where Monica will be investigating the genetic diversity of Grapevine leafroll-associated viruses 1&3 (GLRV1&3) in Western Australia.
Monica has been a part of the plant virology group at the department since joining the Department of Agriculture in 2005, completing her honors and PhD in plant virology along the way.
In addition to research of plant viruses, Monica also works in the department's Diagnostic Laboratory Service in molecular plant pathology.
GLRV1&3 are the primary virus diseases of concern for grape growers in Australia, however very little is known about the diversity of these viruses in Australian vineyards.
Monica's plan is to investigate the diversity, and then use the information to develop an in-field diagnostic test using loop mediated isothermal amplification-polymerase chain reaction (LAMP-PCR).
This method has the potential to give a result in as little as 30 minutes in the field. The data generated will also be used to help refine current diagnostic primers for these viruses, to increase the confidence and accuracy of the testing.
These viruses can cause reduced fruit quality and yield (reported losses of 10-70%), and a survey of 218 grapevine samples across Australia found 13% infected with GLRV1 and 14% infected with GLRV3. It is also reasonably common for a vine to be infected with both viruses.
Having accurate and fast diagnostics to determine the virus status of any given vine will help to maintain the overall health of a vineyard by allowing infected vines to be identified and removed, preventing the spread of disease to nearby healthy vines.
GLRV1&3 are also transmitted via grafting, and the improved diagnostics could boost grafting success by ensuring only healthy cuttings are used in the process.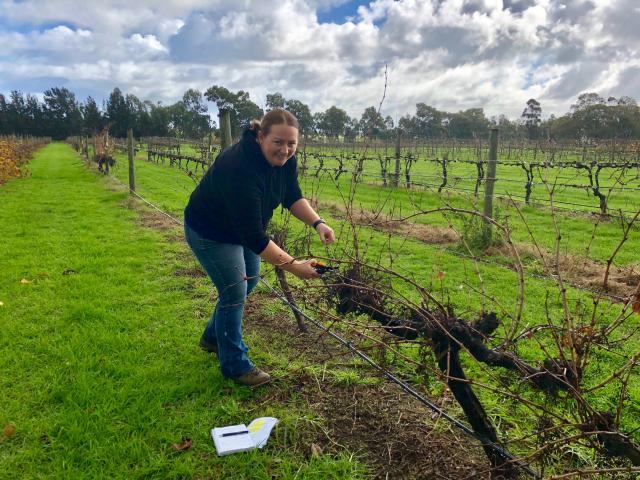 Monica has now started to collect the samples required to assess the diversity of the viruses present in Western Australia.
Further updates to the project will be provided through future editions of the newsletter.
For more information contact Monica Kehoe, Research Officer on +61(0)8 9368 3690