Cabernet hang-time proves a hot topic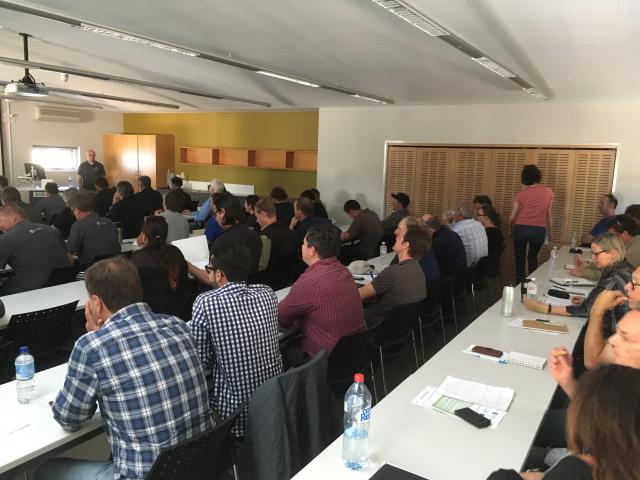 International speaker Associate Professor Jim Harberston, School of Food Science from the Washington State University started the forum off with a review of hang-time experiments conducted in Washington State. These trials were based on Merlot and had the following findings:
Maturity didn't effect tannin extraction regardless of alcohol or ripeness.
Riper fruit yields more colour and tannins.
Extended maceration increased astringency.
Seed tannin extraction was not effected by fruit maturity.
Aroma profile in high alcohol wine is characterised by riper characteristics and greater viscosity.
Alcohol is driving the sensory profile rather than fruit maturation.
Associate Professor Harberston also provided a snapshot of the growing conditions that contribute the high quality wines produced from Washington State. The region is characterised by:
lean soils
persistent winds
cold winters
a dry climate attributed to a rain shadow effect (~250mm)
diurnal shift that benefits phenolic ripeness with balanced acidity
plenty of sunlight, 300+ days.
Dr Keren Bindon from the Australian Wine research Institute (AWRI) presented research findings from a trial examining the impact of hang-time on Cabernet phenolics. The work showed:
Berry volume can shrivel, plateau or increase during ripening.
~52% of skin tannin is extractable.
Generally, extractable tannin increases during ripening and results in higher wine tannin.
Addition of anthocyanins aids in phenolic extraction.
A transition from 'fresh green' to 'dark fruit' can be observed together with changes in phenolics.
Chief Viticulturist at Burch Family Wines, David Botting presented a local view on achieving optimal fruit ripening and maturity in Margaret River Cabernet. David's key points were:
Hang-time doesn't work for all seasons.
Fruit needs to be ripe (sugar/acid) for it to benefit from added hang-time.
Any degree of berry damage makes hang-time difficult due to disease pressures.
Hang-time is not seen as critical when compared to other factors such as as site, season, aspect, row orientation, canopy, cropload, fruit condition, clone, vine age and other extraneous factors.
This presentation was complimented with a winemaker's opinion, Virginia Willcock from Vasse Felix provided her views on hang-time, including:
How does the term 'hang-time' reflect on a late ripening variety like Cabernet?
There needs to be a focus and understanding on how long on the vine is required for fruit to achieve optimum ripeness.
Season and site is the most important factors of quality.
Viticulturists and winemakers need to work together.
The desired style will influence the time on the vine.
In a slight change of topic AWRI Senior Engineer Simon Nordestgaard gave a review of grape sorting technologies and discussed key points on how they impact upon wine quality.
Sorting can result in lowered tannin extraction and lower final alcohol.
Automated sorting only suitable for destemmed fruit.
Reds ideally sorted in the vineyard where as whites are best sorted in the winery.
When choosing a sorter consider cost, ease of cleaning and throughput.
Dr Michael Considine from UWA provided an update on his research project examining the genomic variation with Cabernet clones. The project is nearing completion with Dr Considine reporting he and his team have successfully sequenced 10 clones and have discovered many variations and associated challenges.
This forum was made possible through Wine Australia's Regional Program funding and in collaboration with Wines of WA, Curtin University, Department of Agriculture and Food WA, Perth NRM and the AWRI.