DPIRD's record harvest
The DPIRD wine team consisting of Research Scientist Richard Fennessy and Technical Officer Yu-Yi Liao are all smiles after completing their biggest harvest, with hardly an empty vessel left in the wine laboratory at DPIRD's Bunbury office.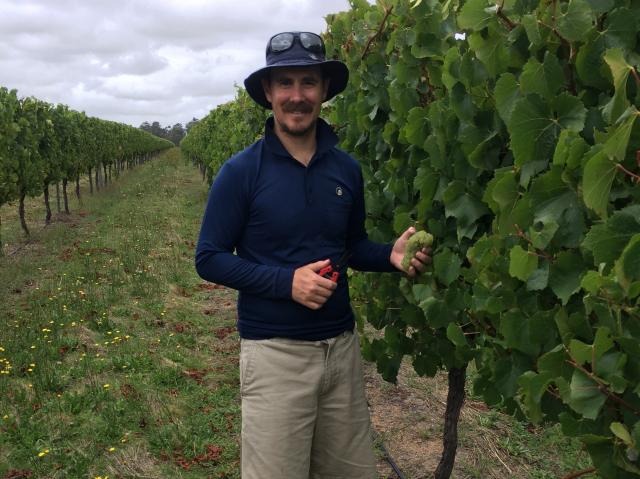 The harvest started with a parcel of Margaret River Chardonnay picked on 16 February and the last parcels of Great Southern Shiraz were picked on 20 April. 
This year, two projects required winemaking components which involved 73 separate parcels (comprising of 1563kg of fruit) and over 150 individual ferments ranging from 2L to 19L.
The two projects are summarised below.
Understanding the intricacies of provenance in Western Australian wine regions
This project aims to build on previous and upcoming works investigating how the variability of the elements (geology, soil and climate) can impact wine attributes within the Margaret River and Great Southern wine regions. The varieties of focus are Chardonnay and Cabernet Sauvignon in Margaret River and Shiraz and Riesling in the Great Southern as these are 'hero' varieties for their respective regions.
The DPIRD team harvested 12 Riesling sites across four subregions and nine Shiraz sites across three subregions in the Great Southern. For Margaret River, 19 Chardonnay and 19 Cabernet sites were harvested. Each parcel was approximately 20kg and picked at a predetermined Baumé specification.
For this project, the team travelled to Margaret River 11 times to harvest sites which equated to around 3000kms travelled. Additionally, seven trips to the Great Southern were undertaken tallying over 5300kms.
The wines from this work will be bottled by August and used for sensory assessment and chemical analysis.
Demonstrating how clonal selection can influence Cabernet Sauvignon wine quality
In 2019 a block of mature Cabernet Sauvignon (clone SA126) in Margaret River (located at Howard Park Wines) was grafted over to 14 different clones and selections as part of a Wine Australia nationally funded project.
This is the second consecutive harvest for this activity which also featured for the first time recordings of key phenological stages, berry weights, bunch weights, bunch compaction, bunch numbers per vine and vine yield. The parcels were harvested on two separate picks, one week apart.
The wines will also be bottled by August and presented at industry wine tasting workshops for producers to gain first-hand insight into how these clones and selections performed.
Acknowledgements
Funding for the Provenance project is received via the Wine Export Growth Partnership of which Wines of WA is a partner. The Cabernet clone activity is funded via the Wine Australia Regional Program (administered by Wines of WA).