Winemakers' Trial Forums completed for 2019
Funded via the Wine Australia Regional Program, Winemakers' Trial Forums provide winemakers an opportunity to share their experiences (and wines) from in-house trials aimed to improve quality or improve production efficiencies. The forums also feature a winemaker from outside the state to exchange views on technologies, techniques and philosophies that local winemakers may not be familiar with. The key aim of this activity is to promote regional collaboration and encourage innovation.
The 2019 series of forums has now been completed, with forums held in the Swan Valley, Margaret River and Great Southern.
Swan Valley
The Swan Valley event (held on 28 May) was held in conjunction with an alternative variety masterclass. Richard Fennessy presented 19 wines from the alternative variety demonstration block in Geographe to demonstrate the potential suitability of a number of emerging varieties for both the Perth Hills and Swan District regions. The event was to feature Duncan Lloyd (Coriole winemaker, McLaren Vale) but was a late cancellation, luckily alternative variety expert Megs Kopke (owner of specialist online wine retailer Morevino) was able to fill in as a guest speaker. A number of Italian varieties from Coriole were included in the tasting. Varieties such as Fiano, Vermentino and Montepulciano in particular provided excitement about their potential suitability.
The trial forum component of the day saw a focus on Chenin Blanc and Grenache. Wines from local producers demonstrated the diversity of styles that Chenin Blanc can be made in from the region and also highlighted the suitability of this variety to the region with such high quality wines presented. Grenache was discussed in great depth and in particular the uniquiness of very old Grenache vines in the region producing distinct and quality wines of a style that is proving popular in the current market.
Margaret River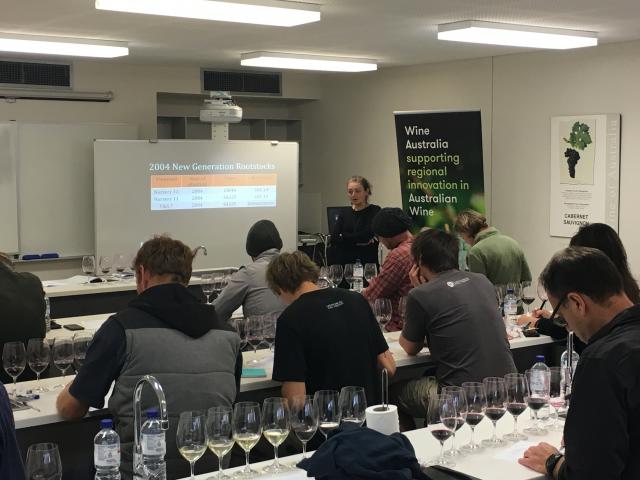 Held 9 July 21, the focus of this event was primarily Cabernet Sauvignon but trials of Sauvignon Blanc and Shiraz were also included. Specifically the trials included a Sauvignon Blanc yeast trial, Shiraz whole berry vs whole bunch vs normal, Shiraz clones, Cabernet selective harvesting and Cabernet clones from Wilyabrup, Carbunup and Jindong.
Sarah Pidgeon from Wynns Coonawarra Estate featured as quest winemaker. Sarah provided 13 wines that demonstrated the influence of vine age, clone and rootstock on Cabernet wine quality.
Great Southern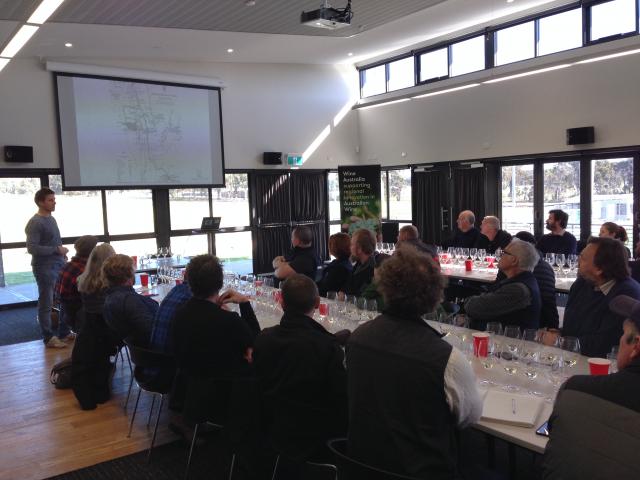 This event had a slightly different format, the focus of the tasting was to explore and define the key differences of Great Southern Riesling across the five sub-regions (Frankland, Mt Barker, Denmark, Porongurup and Albany). Local producers contributed 16 sub-regional wines from recent and past vintages. This was a great opportunity to taste, describe and discuss unique sub-regional differences. Frankland was noted to produce wines showing floral & perfumed notes, Porongurup was characterised by slatey, minerality and grapefruit pith and Mt Barker was seen as producing richer wines. There was only one producer from Denmark and Albany so no conclusions were made other than the wines were of excellent quality.
Clare Valley based winemaker Steve Baraglia from Pikes Wines and Naked Run Wines featured as guest speaker, Steve presented 13 wines from the Clare Valley to taste and demonstrate sub-regional differences. The tasting concluded with five clones of Pinot Noir produced from a Pemberton vineyard in a pilot trial. All wines were very well received and feedback showed great interest in both Riesling and Pinot Noir clonal diversity and suitability to the Great Southern.