Wine Australia Incubator Initiative – Chardonnay and Grapevine leafroll viruses
In 2018, Department of Primary Industry and Regional Development (DPIRD) Researcher Monica Kehoe, together with Brenda Coutts and Richard Fennessy, was awarded an Incubator Project.
A survey was conducted throughout the growing season to identify Chardonnay vines both with and without grapevine leafroll viruses.
In total, nearly 600 samples were tested by Quantitative Polymerase Chain Reaction (qPCR) in the DPIRD laboratories for Grapevine leaf roll virus 1 (GLRV1) and Grapevine leaf roll virus 3 (GLRV3). In addition, the infield Loop mediated isothermal amplification (LAMP) test for GLRV1 was deployed in the field, successfully testing around 300 vines in the field, where it was used for confirmatory testing of the vines to be selected for harvest.
The infield diagnostic test was developed as part of the Wine Australia sponsored Science and Innovation award to Monica in 2018.
In the end, two blocks were selected for harvest. The grapes were harvested by Monica, Richard and Craig Webster, and the small batch wine making process is now underway. The results of the experiment will not be available until after the sensory evaluation of the wine. There is currently no record of any similar study on a white variety, so we are keen to see how the project finishes.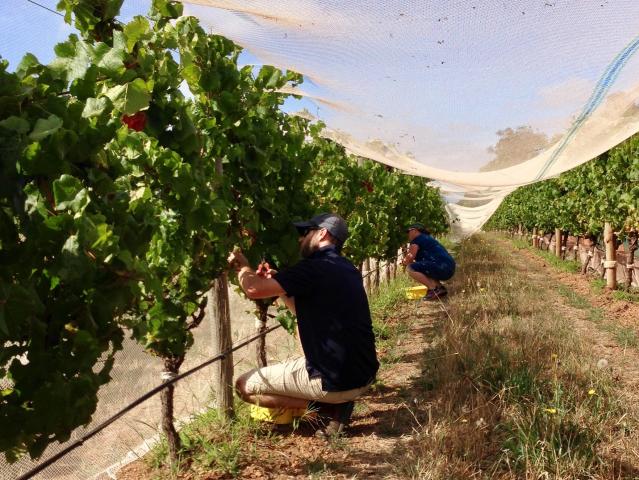 This information will help us to understand the influence of virus infection on the wine quality, and whether the virus is as detrimental to the overall vine health as is commonly thought. The exception is the Gingin clone of Chardonnay, widely thought to owe some of its favourable characteristics to infection with GLRV1. We look forward to the results, and the discussions around virus disease management that will follow.